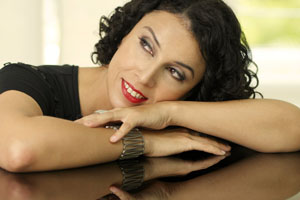 "What always impresses me is the receptivity that Brazilian music has abroad" – Paula Morelenbaum
The Bossarenova Trio comprises of Paula Morelenbaum (vocals), Joo Kraus (trumpet and vocals) and Ralf Schmid (piano and electronics). They came together in 2009 to celebrate the 50th anniversary of the birth of bossa nova with their aptly named album, 'Bossarenova.'
Paula is a legendary bossa nova singer who toured the world with Antonio Carlos Jobim's band, as well as the famous Quarteto Jobim-Morelenbaum, and the trio Morelenbaum-Sakamoto. Pianist Ralf Schmid has worked with Herbie Hancock and Ray Anderson, and Joo Kraus being is an acclaimed European trumpet players.
Their work has received a range of accolades in the media, such as "instrumental perfection," "vocal brilliance," "great atmosphere," and "the essential lightness of Bossa Nova."
The trio will be performing in Singapore at the Mosaic Music Festival on March 9 and 10 at the Esplanade.
Some of Paula's other albums include Casa, Agua, Telecoteco, and Berimbaum. She joins us in this exclusive interview to talk about her new trio, trends in bossa nova music, and her experiences in travelling and performing around the world.
What was the vision behind album and group?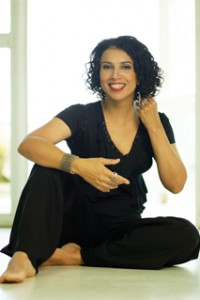 Bossarenova is the name of the album that I recorded with the SWR Big Band in Germany, with arrangements and piano by Ralf Schmid and with Joo Kraus as special guest. After two years touring in Europe with the SWR Big Band, Ralf, Joo and I decided to continue to play the songs of the album with a small ensemble – just three of us – turning the sound of Bossarenova repertoire completely different. In fact we are not really a group. We are three artists showing the repertoire of this beautiful album!
How did the musicians in your group meet each other?
I was invited by Ralf Schmid to record an album singing bossa nova with the SWR Big Band and make many shows in Europe to release the album. Then I met Ralf and Joo, and we discovered that we have many musical affinities, and decided do something together.
Our debut was in New York, last year. We also played in California, and in Europe we did a big tour. In all these places the concert was a big success, but so far we have not yet performed in Brazil. We are programming something next year, which is the year of Germany in Brazil.
How far has bossa nova come in its 50-year journey? Where do you see it headed?
The bossa nova was a musical revolution in Brazil. In musical terms, we never had something like that, and nothing like that has happened since then. I think nowadays bossa nova is becoming very strong with the new generations, both in Brazil and worldwide.
There are many re-mixes and electronic re-releases of bossa nova tracks. I love most of all of them. Just to mention one of them, I love the arrangements and remix that the group BossaCucanova does for bossa nova songs.
What other musical genres has your band explored?
We mix Brazilian music – bossa Nova, samba – with jazz, improvisations, because Ralf and Joo are excellent musicians and they master this area of improvisation, which is not my specialty. Then we mix the best of us, with the different cultures that we have and the musical result of this mix comes out and we will showcase this for you all.
What have been some of the highlights of your performances across the world?
What always impresses me is the receptivity that Brazilian music – I mean the bossa nova and samba – has abroad, whether in the U.S., Europe or Asia. I have performed many times in Japan, and once in Seoul, South Korea, and the audience is always very helpful, and shows their identification with our music.
Once in Macedonia there was a group that opened for my show, and they played bossa nova. The group's singer sang with such a good Portuguese accent that I thought she was Brazilian. When their show was over, they came up to me, and none of them spoke Portuguese; neither did the singer, and it turned out she was not Brazilian!
What new album or video are you working on now?
Now, Ralf Schmid, Joo Kraus and I are preparing the repertoire to record a new album, just with three of us. Our plan is to record it next October/November, and the idea is to mix bossa nova with compositions of German classical composers like Shummann, Shubert and songs by the Brazilian composer Villa Lobos with a new approach and new arrangements. We are going to film it also.
Where do you get inspiration from when you perform and compose?
My inspiration is the beauty of nature, the city of Rio de Janeiro!
What have been your previous highlights in playing across Asia?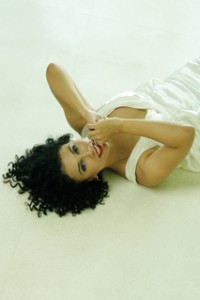 I've sung in some places in Asia, but not in Singapore. I'm very curious to know the city and people. All I hope is that people in Singapore like our music, and enjoy our show. If I have time, I would be very interested in knowing about the local music and musicians.
What can we expect to hear at your upcoming performance?
Most of our songs will be based on the repertoire of Bossarenova album, which we recorded with the SWR Big Band. Naturally we did many changes to transform an arrangement of 24 musicians into one for only three people. In addition to singing, I play percussion – it certainly makes our music sound very different from what is recorded on the album Bossarenova. It's not easy to perform just a small set, but we are going to try to choose our best moments!
What is your message to the audience in Singapore?
I would like to say that I am extremely happy to go first to Singapore, to sing Bossa Nova, and present the work of a genius like Antonio Carlos Jobim, the great master with whom I sang at the beginning of my career for ten years, lyrics of the great poet Vinicius de Moraes, music of Baden Powell and Jorge Benjor, among others – with a modern approach. I wish that people will like it because I want to come back often!
Author:
Madanmohan Rao
Madanmohan Rao is an author and media consultant from Bangalore, and global correspondent for world music and jazz for World Music Central and Jazzuality. He has written over 15 books on media, management and culture, and is research director for YourStory Media. Madan was formerly World Music Editor at Rave magazine and RJ at WorldSpace, and can be followed on Twitter at @MadanRao.