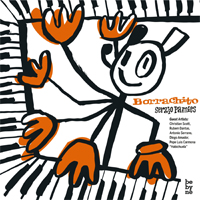 Sergio Pamies
Borrachito (Bebyne Records, 2012)
I've never asked a musician if the art of playing music is a real and solid physical force. I imagine for some it is just that for the sheer tactile nature of playing an instrument. It's sometimes easy to forget that listening, despite its ethereal nature, can almost feel like an actual physical force. Nothing could explain that physical force feeling like Sergio Pamies's Borrachito. This jazz and flamenco hybrid recording is a bit like going a couple of rounds with a heavyweight champ. Savvy, sophisticated and downright forceful, Borrachito is a swift kick in the musical gut.
Full of voluptuous passion and wild abandon, Borrachito is the second installment, his first being the 2008 recording Entre Amigos, from the Granada, Spain born pianist Sergio Pamies. Backed by the Entre Amigos Band, made up of Julian Sanchez on trumpet, Victor de Diego on saxophone and flue, Marko Lohikari on acoustic bass, Gonzalo del Val on drums, Sergio Gomez "El Coloraito" and Jose Cortes "El Pirata" on vocals, Benjamin Santiago "El Moreno" and Miguel Fernandez "El Cheyenne" on percussion, Mr. Pamies offers listeners razor-sharp compositions that combine the heady intoxication of sultry jazz against the fermented passion of flamenco. The combo is sleek and satisfying.
Opening with a finely drawn piano intro before seamlessly slipping into the full dazzling flash of title track "Borrachito," Mr. Pamies launches the listener on a fantastical journey ripe with fiery flamenco percussion, silky vocals and expertly worked jazzy piano. It's hard not to fall under the spell of the trumpet-infused Thelonious Monk track "Ask Me Now" or the thickly jazzy "Isfahan" on Borrachito. And, if you remain unmoved by sharp brass, lush piano and the vocals of guest artist Pepe Luis Camona "Habichuela" on the sultry "1312 Kendolph Drive" well, there's no help for you. Equally good is "Te Espero en el Eshavira," "En Estado de Ruina" or the achingly good "Fandango in Boskovice" with guest trumpeter Chrisian Scott.
Borrachito is a fabulous musical force of nature.
Listen to samples and purchase digital tracks
Author:
TJ Nelson
TJ Nelson is a regular CD reviewer and editor at World Music Central. She is also a fiction writer. Check out her latest book, Chasing Athena's Shadow.
Set in Pineboro, North Carolina, Chasing Athena's Shadow follows the adventures of Grace, an adult literacy teacher, as she seeks to solve a long forgotten family mystery. Her charmingly dysfunctional family is of little help in her quest. Along with her best friends, an attractive Mexican teacher and an amiable gay chef, Grace must find the one fading memory that holds the key to why Grace's great-grandmother, Athena, shot her husband on the courthouse steps in 1931.
Traversing the line between the Old South and New South, Grace will have to dig into the past to uncover Athena's true crime.