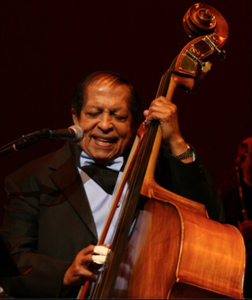 Only three months after winning his second Latin Grammy in the category of "Best Traditional Tropical Album", the great Cuban bass player and composer Israel López "Cachao" won a Grammy at the 54th annual edition of the most prestigious award in music. Posthumously, his last album, "Cachao: The Last Mambo", was chosen in the category of "Best Tropical Latin Album". The annual Grammy ceremony was held last night at the Staples Center in Los Angeles, California, and televised on CBS.
"We knew we had a special treasure in this, the last recording of the great Maestro, but we never expected the level of acceptance we have had from the general public, the enthusiastic reviews from critics, and the awards that have been bestowed on it. Producing his last concert and, in turn, his last album, will always be one of the highlights of my career and my life", said Nelson Albareda, president of Eventus and executive producer of the CD along with Omer Pardillo-Cid, Christian Thomas and Daniel Palacio.
"Cachao: The Last Mambo" captures a memorable concert recorded live in Miami in September of 2007, in celebration of the 80 years of the great Maestro's career. Internationally-renowned artists such as Issac Delgado, Hansel and Lucrecia participated in the gala, along with distinguished musicians such as Cándido Camero, Orestes Vilató, Alfredo De la Fe, Jimmy Bosch, Dave Valentín, Edwin Bonilla, Rafael "Tata" Palau and Alfredo Valdéz, Jr., all under the direction of Maestro Federico Britos.
Christian Thomas, one of the producers of the album, adds, "Cachao was an artistic treasure; a blessing God bestowed upon man. El Maestro was 89 years old when he performed at this concert. He rehearsed for three days and performed flawlessly throughout the show. It was an extraordinary accomplishment and it is a great honor that the Recording Academy has recognized this achievement. May Cachao's music live forever".
Cachao, legendary Cuban musician who was called "The Beethoven of the Caribbean", in life won two Grammys, and one Latin Grammy. He was also awarded a star on the Hollywood Walk of Fame, and was honored by the National Endowment for the Arts and the Hispanic Heritage Awards. For over 80 years, Cachao was considered one of history's best bass players and composers. He wrote over 2,000 danzones along with his brother Orestes, and is recognized internationally as "the Creator of the Mambo".
Author:
World Music Central News Department
World music news from the editors at World Music Central