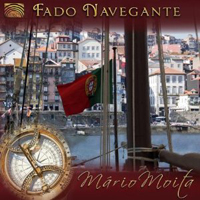 Mário Moita
Fado Navegante (Arc Music, 2012)
Mário Moita is an accomplished singer, composer and piano player in fado style, and his new CD can perhaps be described as an "Afro-Latin American Fado" album, with Portuguese fado meeting and connecting with other music, such as Argentinean tango, Cape Verdean creole "morna", Southern Portuguese Moorish influences, Brazilian bossa nova, African beats and more.
The song form of fado can be traced back to sailors and their loved ones in the Portuguese colonial era, separated by the oceans. Indeed, the poems on which fado lyrics are based often refer to loved ones while away at sea, and the sadness and longing (saudade) at the thought of not seeing one's love again. The sixteen tracks on this album make for just over 50 minutes of fine listening, and push fado (literally) to new frontiers.
With maritime explorers such as Vasco da Gama, Portuguese culture spread across the globe. Throughout the 15th and 16th centuries the Portuguese were among the world's leading explorers, establishing colonies in parts of South America, Africa and Asia.
Throughout his life, Mário Moita himself travelled to many of these places and saw how Portuguese culture was integrated with local traditions. On this album he experiments with other instruments not usually associated with fado, such as accordion, soprano sax and string quartet. Still, at heart, the soul and texture of the songs is distinctly fado.
Born in Evora in Portugal, Mario began singing fado at the young age of seven, and stuck to fado though he studied engineering. Early influences include the pianist Fortunato Murteira who played fado with the piano. Mario has performed extensively abroad in Japan, Romania, Cyprus, Estonia, Spain, France, USA, Canada and Brazil.
The album Fado Navegante blends fado sound with the music of other regions and takes Portuguese music on a new 21st century voyage across the seas. The CD begins with accordion and piano along with traditional guitar in the opening tango-fado track Imperador e Cleopatra, and prepares the listener for a new experience. The third track Tantas vezes saudade begins with African percussion and rhythms and really brings new influences into fado, as does the next track Fado crioulo, with fine soprano sax weaved in. This track is in Cape Verdean style; Cape Verde was a key strategic port for Portugal to explore the African coast and the onward sea route to India in the colonial era.
The song Minha moura encatada brings in a romantic Moorish influence as well. The track Praia secreta is woven around a Brazilian samba rhythm. Other upbeat tracks which will transform you to dance mode include Beleza Raiana and Nao misturem flores. The closing track Meu anjo querubim brings the listener back to traditional fado style.
Mario Moita also has a Web site in Portuguese, at http://www.mariomoita.com, for those who want to explore the work of this musician further. The CD also comes with a 28-page booklet with lyrics, packed with details of the themes of each song: separation, longing, fondness, nature, messages from the birds and the moon, and memories of a first kiss. In sum, this is a great album to add to your collection, for new explorations in fado!
Buy the album and listen to samples:
Author:
Madanmohan Rao
Madanmohan Rao is an author and media consultant from Bangalore, and global correspondent for world music and jazz for World Music Central and Jazzuality. He has written over 15 books on media, management and culture, and is research director for YourStory Media. Madan was formerly World Music Editor at Rave magazine and RJ at WorldSpace, and can be followed on Twitter at @MadanRao.