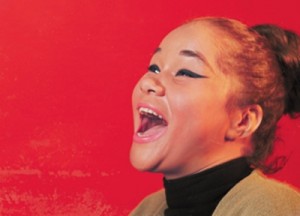 The Grammy award winning blues, soul, jazz and gospel singer Etta James, best known for the sultry track "At Last," passed away at California's Riverside Community Hospital on January 20, 2012 after several hospitalizations and a terminal leukemia diagnosis in December 2011. Ms. James had been in poor health for some time, struggling with dementia and several infections for the past year. Ms. James's husband Artis Mills and sons Donto and Sametto were by the singer's side. Etta James was 73.
Born Jamesetta Hawkins on January 25, 1938 in Los Angeles, California, Ms. James wowed listeners with her bold vocals on such tracks as "At Last," "I'd Rather Go Blind" and "A Sunday Kind of Love." Starting out her professional musical career in the 1950s girl group she formed called the Creolettes, Ms. James soon found a mentor in the musician Johnny Otis and a gained a record contract with Modern Records where she changed her name and the group became known as the Peaches. The 1955 recording of "Dance with Me, Henry earned a number one spot on the Hot Rhythm & Blues Tracks chart and a place in Little Richard's national tour. Ms. James would leave the Peaches in favor of solo work and would eventually sign with Chess Records. The famed debut album At Last! was released in 1960 earning Ms. James chart positions on the R&B charts and on Billboard's Hot 100. She would follow that recording up with The Second Time Around that featured the tracks "The Fool That I Am" and "Don't Cry Baby."
Despite personal struggles with addiction, tangles with the law and bouts spent in rehab, Ms. James recorded more than 25 studio albums and 4 live albums that includes The Queen of Soul, Call My Name, Mystery Lady: Songs of Billie Holiday, Blues to the Bone and her final 2011 release The Dreamer. She earned a Grammy Award in 1994 and a Grammy Lifetime Achievement Award in 2003. She earned a #62 ranking on Rolling Stone Magazine's 100 Greatest Artists of All Time. She won the Soul/Blues Female Artist of the Year nine times, a NAACP Image Award, a Pioneer Award from the Rhythm and Blues Foundation and earned accolades from the Rock and Roll Hall of Fame and the Rockabilly Hall of Fame, as well as an award from Billboard's R&B Founders association.
"Three-time GRAMMY winner and Recording Academy Lifetime Achievement Award recipient Etta James leaves behind a dynamic legacy spanning six decades," Neil Portnow, President/CEO of The Recording Academy. "Her music knew no boundaries as she explored diverse genres including blues, soul, R&B, rock and roll, gospel and jazz. She will forever be remembered for her timeless ballad "At Last," and a powerful voice that will echo around the world for generations to come. We extend our deepest sympathies to her family, friends, fans and all who have been stirred by her soulful songs and passion for music."
No announcement has been made yet regarding funeral arrangements for the singer.
Author:
TJ Nelson
TJ Nelson is a regular CD reviewer and editor at World Music Central. She is also a fiction writer. Check out her latest book, Chasing Athena's Shadow.
Set in Pineboro, North Carolina, Chasing Athena's Shadow follows the adventures of Grace, an adult literacy teacher, as she seeks to solve a long forgotten family mystery. Her charmingly dysfunctional family is of little help in her quest. Along with her best friends, an attractive Mexican teacher and an amiable gay chef, Grace must find the one fading memory that holds the key to why Grace's great-grandmother, Athena, shot her husband on the courthouse steps in 1931.
Traversing the line between the Old South and New South, Grace will have to dig into the past to uncover Athena's true crime.