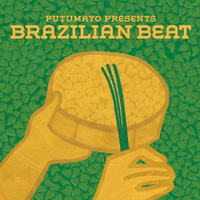 Brazilian Beat (Putumayo World Music, 2012)
Novalima – Karimba (ESL Music, 2012)
Brazil has been known worldwide for its dance music for decades, neighboring Peru only more recently so. Consequently, Brazil's music has a longer history of being modernized to suit contemporary tastes and dancing pleasures. The trick is to keep the soul and spirit of the music intact in the face of technology; something Brazilians have learned to do and Peruvians are picking up on.
Like last year's African Beat and Latin Beat collections, Putumayo's Brazilian Beat focuses in large measure on electronically tweaked sounds built around a roots music core. In this case, that means the familiar strains of bossa nova, samba and tropicalia get some additional plugging-in and emerge none the worse for it.
Most of the featured artists are new to me and all bring their own spark to the album, be it the sassy/sultry tones of Bruna Caram, Marcos Valle alternating seamlessly between Afro-Bahian and chilled club rhythms, the jazzy revelations of the New York City-connected Brazilian Groove Band, Fino Collectivo's clever combination of past and future or Tita Lima's downtempo layers of synthesized and organic sounds. Putumayo has shown a knack for Brazilian compilations in the past (check out Brasileiro, Acoustic Brazil and Brazilian Lounge in particular) and they've released another winner here.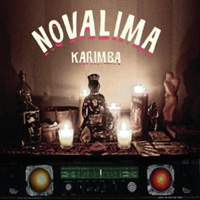 Peru's Novalima has been remarkably successful at adding electronics and programmed enhancements to traditional Afro-Peruvian music, never allowing the earthy sounds of percussion, guitar, bass and vocals to get buried in too much trickery. So the full frontal assault of cajon, congas, cowbells, jawbones, passionate plucking and soulful singing gets to your gut and dancing feet while the switched-on sounds cool your brain. There are horns on about half the tracks for an added punch of reality, beats that break and re-assemble and plenty of dubby, echoey effects for the players and singers to splash about in.
The band stretches out well beyond the familiar to get truly funky on the likes of "Macaco (Novalima Remix)" and the Afrobeat storm of "Hotel BCN," but it's primarily the mix of Peru, Africa and the dancefloor that makes Karimba an excellent latest offering from one of the few bands getting the balance of old and new just right.
Author:
Tom Orr
Tom Orr is a California-based writer whose talent and mental stability are of an equally questionable nature. His hobbies include ignoring trends, striking dramatic poses in front of his ever-tolerant wife and watching helplessly as his kids surpass him in all desirable traits.