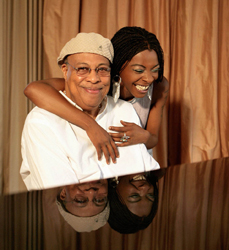 Cuban piano maestro Chucho Valdés and his band the Afro-Cuban Messengers are set to perform at Carnegie Hall in New York City on Saturday, January 21, 2012. Joining them as special guest on vocals will be Spanish sensation Buika. This will be Chucho Valdés' first concert on Carnegie Main Stage since the 1978 Irakere (his former jazz fusion band) debut.
This concert will also be the first time in North America that Valdés will perform with the extraordinary Spanish jazz singer Buika. Her 2010 collaboration with Valdés, El Ultimo Trago (The Last Drink), won a 2010 Latin Grammy for "Best Traditional Tropical Album." Buika recently made her screen debut, appearing as a singer performing two songs in Pedro Almodóvar latest movie The Skin I Live In."
Chucho and his Afro-Cuban Messengers will be performing music from Chucho's Steps, which won the Grammy for "Best Latin Jazz CD". The CD, released on the Four Quarters label, features musical tributes to American and European jazz artists that Valdés cites as influences, including Cole Porter, Joe Zawinul, Art Tatum, John Coltrane, Branford Marsalis, even going back to the Voice of America radio broadcasts Valdés heard growing up as a child in Havana.
Valdes' 2011/2012 touring schedule is his busiest ever, with dates in such far-flung places as Angola, Macao and Taipei, and large tours throughout South America, Europe and North America.
The pianist first met Buika in 2008 at Spain's Vitoria Jazz Festival. The singer, whose parents were political exiles who fled to Mallorca (Spain) from Equatorial Guinea, has been influenced equally by American jazz, African music and flamenco. She and Chucho quickly decided they should work together and soon found themselves in Havana recording "El Ultimo Trago," a heartfelt tribute to the iconic Mexican singer Chavela Vargas who helped launch Buika's career in Latin America.
El Ultimo Trago, Buika's third release on Warner Latin in the United States, garnered the singer her first Latin Grammy, as well as enough excitement in music circles to warrant her inclusion in NPR's "50 Greatest Voices." Buika's fans now include Alicia Keys, Gloria Estefan and Antony Hegarty of Antony and the Johnstons. She recently moved from Spain to Miami to better take advantage of her many opportunities in the American market.
Chucho Valdés, who now makes his home in Málaga, Spain, is one of the most celebrated musicians to come out of Cuba in the last 50 years. He has won 5 Grammys and 3 Latin Grammys for his work as pianist, composer, bandleader and arranger. Learning piano from his father, the legendary Bebo Valdés, and later at the Havana Conservatory, Chucho achieved his own international fame with the creation of the influential fusion and Latin jazz ensemble Irakere, featuring luminaries such as saxophonist Paquito D'Rivera and trumpeter Arturo Sandoval. That group made its New York debut at Carnegie Hall in 1978, a concert that was personally, as well as musically, historic: it was backstage at that show where Chucho was reunited with his father after an 18-year separation. Bebo calls him "the best pianist in the world."
Saturday January 21, 2012
8:00pm
Stern Auditorium / Perelman Stage
881 Seventh Avenue at 57th St., New York, NY
Tickets Prices: $25 – $75
www.carnegiehall.org
Buy El Ultimo Trago
Author:
World Music Central News Department
World music news from the editors at World Music Central