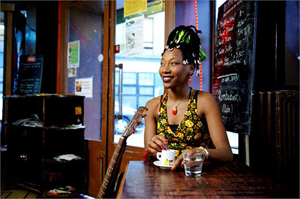 Malian sensation Fatoumata Diawara will tour extensively in Europe in 2012, play a handful of dates in Australia and play a series of dates in the United States to support the North American release of Fatou.
Fatou fuses traditional Wassulu styles with western elements. The album features kora legend Toumani Diabaté, drummer Seb Rochford, afrobeat pioneer Tony Allen and Led Zeppelin's John Paul Jones.
2011 saw Fatoumata perform as part of Damon Albarn's new project Rocketjuice and the Moon. Albarn's super-group, featuring himself, Tony Allen and Flea, toured in the autumn to packed venues. The Rocketjuice and the Moon album, featuring Fatoumata, will be released in spring 2012.
January
17 – Australia – Sydney -Spiegeltent Parramatta
18 – Australia – Sydney – Spiegeltent Parramatta
20 – Australia – Sydney – Spiegeltent Sidney Festival
21 – Australia – Sydney – Spiegeltent Sidney Festival
22 – Australia – Sutherland – Entertainment Centre
26 – UK – Glasgow – Celtic Connection Festival
27 – UK – Glasgow – Celtic Connection Festival
28 – The Netherlands – Amsterdam – Tropentheater
29 – The Netherlands – Amsterdam – Tropentheater
February
2 – France – Paris – Alhambra
3 – France – Nantes – Stéréolux
6 – UK – Londres – HMV Series
7 – Sweden – Gävle – Gävle Theater Förening
8 – Sweden – Sundsvall – Sundsvalls Theater
9 – Sweden – Stockholm – Sodra Teatren
10 – Sweden – Helsingborg – Dunker Kulturhaus
11 – Denmark – Copenhagen – Global
25 – Germany – Mainz, Frankfurter Hof
26 – Germany – Karlsruhe, Tollhaus
27 – Germany – München, Ampere
28 – Austria – Dornbirn, Spielboden
29 – Austria – Innsbruck, Treibhaus
March
1 – Austria – Wien – Porgy and Bess
2 – Germany – Nurnberg – Tafelhalle
3 – Germany – Koln – Philarmonie
7 – Luxemburg – Dudelange – CC Opderschmelz
31 – Italy –
April
1 – Italy – Rome – Auditorium
18 – Switzerland – Stans – Kulturschmitte
20 – Norway – Drammen – Union Scene
21 – Norway – Lorensgok
May
10 – Belgium – Gent – De Centrale
12 – The Netherlands – Amersfoort – Global Village Festival
23 – Slovenia – Maribor – Maribor Cultural City of Europe
25 – France – Mezidon – La Loco
June
16 – France – Verneuil sur Avre – Le Silo
July
13 – UK – Southwold – Lattitude Festival
14 – UK – Larmer Tree – Festival
15 – Germany – Wuppertal – Skulpturenpark Waldfrieden
16 – Germany – Oldenburg – Kultursommer
18 – Germany – Jena – Kulturarena
19 – Germany – Kassel – Kukturzelt
20 – Germany – Koblenz – Horizonte
29 – Austria – Krems – Krems Jazz
August
3 or 5 – France – Crozon – Festival du Bout du monde
Author:
World Music Central News Department
World music news from the editors at World Music Central