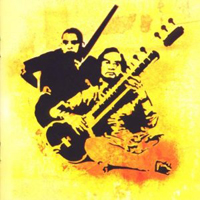 The Ananda Shankar Experience and State of Bengal
Walking On (Real World)
This vintage Indo-British fusion album features a collaboration between sitar virtuoso Ananda Shankar and Asian undergrounders State of Bengal. Shankar jammed with Jimi Hendrix in the late 1960s and recorded a series of acclaimed albums in the 70s way before the term world music become popular; he unfortunately passed away shortly after this album was recorded.
The 11 high-energy tracks showcase over an hour of experimentation music, with breakbeats and fine sitar solos. Our picks include the smooth Pluck, funky BetelNutters, galloping Streets of Calcutta and dreamy Tanusree. What a pity this is the end of the line for this superb collaboration, but what a magnificent tribute to the genius of Ananda Shankar.
Author:
Madanmohan Rao
Madanmohan Rao is an author and media consultant from Bangalore, and global correspondent for world music and jazz for World Music Central and Jazzuality. He has written over 15 books on media, management and culture, and is research director for YourStory Media. Madan was formerly World Music Editor at Rave magazine and RJ at WorldSpace, and can be followed on Twitter at @MadanRao.