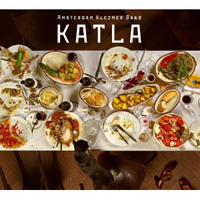 Amsterdam Klezmer Band has a new album titled Katla (Essay Recordings AY 028CD, 2011) . Katla is It is the ninth album by Amsterdam Klezmer Band and contains 14 brand-new tracks which are all original compositions written by the band members themselves. Sirba, turbo-polka and booty-shaking cocek, oompah and motley rhythms, all with the characteristic and inimitable Amsterdam Klezmer Band virtuosity, are to be found on this album. The line-up on Katla includes front men Alec Kopyt (a cult singer from Odessa, who's a renowned specialist of prison songs) and Job Chajes, singing and rapping.
Katla is the name of the biggest volcano in Iceland. This title implies the new album's explosive, joyful character. Other members of the Amsterdam Klezmer Band include: Jasper de Beer (double bass, guitar banjo, backing vocals), Gijs Levelt (trumpet, backing vocals), Joop van der Linden (trombone, percussion), Janfie van Strien (clarinet, backing vocals), Theo van Tol (accordion, davul), Midou Akhrif (darbuka), and Bokkie Vink (cymbalon).
The Amsterdam Klezmer Band story started in 1996. A few boys from Amsterdam with a Jewish background got inspired by the catchy sounds of klezmer and Balkan music and started busking. Since that time, the band has evolved into a seven-strong line-up, representing one of the finest among the klezmer and Balkan music scene in Europe.
The Amsterdam Klezmer Band is blessed with an enthusiastic following in the Netherlands, the whole of Europe and even in Brazil. Their refreshing approach to klezmer and Balkan music transcends the traditional aspects of this music and results in a very lively mix of Eastern-European sound. Their strength lies in their ability to appeal to a remarkably broad audience across all age groups; they play clubs or theaters, festivals, parties, weddings or formal functions and can both fire up a crowd and create pure listening pleasure with the vibrancy of their playing. Popular Amsterdam Klezmer Band tunes are being covered and Amsterdam Klezmer Band remixes are found in many clubs from Berlin to Sydney.
Buy the album or MP3 downloads:
Author:
World Music Central News Department
World music news from the editors at World Music Central