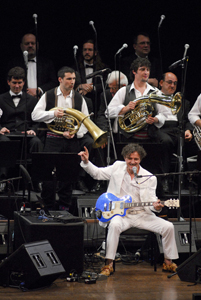 Legendary composer, traditional musician, world music and rock star are just a few ways to describe the madness and genius of the Sarajevo-born musical icon of the Balkans, Goran Bregovic. Loved by eastern influenced indie-band Beirut, among others, Bregovic's live show, which features a vocal, string and Gypsy brass ensemble. His Wedding and Funeral Orchestra, ranges from alcohol fueled musical chaos to serene beauty and traditional eastern music reverence.
Bregovic's most recent album, Alkohol, was recorded live in Guca (Serbia) in the summer of 2007 and is his first album to be released in North America. Welcome to Goran Bregovic, his first best-of record, is also available in North America through Wrasse Records. A number of works by Bregovic can be heard on the soundtrack to the 2006 film Borat: Cultural Learnings of America for Make Benefit Glorious Nation of Kazakhstan.
Brogevic will be releasing a new album in 2012 titled Champagne For Gypsies.
In collaboration with Pomegranate Arts, Goran Bregovic and his Wedding and Funeral Orchestra will be touring in October across North America playing shows in Durham (North Carolina), New York, Chicago, Los Angeles, Toronto, Montreal and other locations.
Tour Dates
10/14 – Chicago, IL – Symphony Center – Tickets
10/15 – Ann Arbor, MI – Hill Auditorium – Tickets
10/16 – Durham, NC – Page Auditorium – Tickets
10/19 – New York, NY – Carnegie Hall – Tickets
10/21 – Toronto, CA – Sony Centre – Tickets
10/22 – Montreal, CA – Metropolis – Tickets
10/25 – Houston, TX – Jones Hall – Tickets
10/26 – Los Angeles, CA – Disney Hall – Tickets
10/27- Vancouver, CA – The Vogue Theatre – Tickets
10/28 – Oakland, CA – Paramount Theatre – Tickets
Watch Bregovic and his live band perform a fan favorite, "Gas Gas Gas" below.
This concert kicks-off the 2011/12 World Music series at Walt Disney Concert Hall. The other upcoming performances are Zakir Hussain's Masters of Percussion on March 21; Soweto Gospel Choir on April 11; and guitar legend Paco de Lucia on April 28.
Author:
World Music Central News Department
World music news from the editors at World Music Central