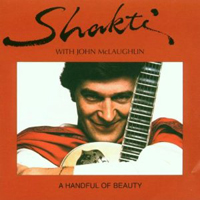 Shakti
A Handful of Beauty (Sony)
This album, one of the few released by fusion supergroup Shakti, is absolutely amazing. Each track is magnificent, and provides a dazzling array of fusion from Western jazz to Indian classical music. The stellar lineup includes John McLaughlin on acoustic guitar, L. Shankar on violin, Zakir Hussain on tabla and Vikku Vinyakaram on ghatam.
Each track is flawless, and right from the opening piece "La Danse Du Bonheur" to the closing track "Two Sisters," the album grips you and makes you sit right at the edge of your seat. Also check out their other albums "Natural Elements" and the debut release "Shakti."
Author:
Madanmohan Rao
Madanmohan Rao is an author and media consultant from Bangalore, and global correspondent for world music and jazz for World Music Central and Jazzuality. He has written over 15 books on media, management and culture, and is research director for YourStory Media. Madan was formerly World Music Editor at Rave magazine and RJ at WorldSpace, and can be followed on Twitter at @MadanRao.