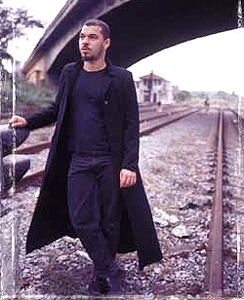 The album Reverse is, according to its author, an album made among friends and conceived as an art antibiotics. It is the most recent musical production by X Alfonso. The recording, made up of twelve tracks, was presented on October 1 at the Yara Movie Theater at 10:00 p.m.
Produced under the label Cuban Art Fabric, it is a project that brings together all of the artistic expressions, the album is a reflection on contemporary reality.
X Alfonso declared that this is a casual production, in which text and melodies are very important. He added that Reverse has an aesthetic which is similar to the soundtrack of Havana Blues, since it includes a lot of rock.
The singer and composer also announced that the Art Fabric Cultural Project, which used to take place in pabexpo, will have yet another space, which they hope to inaugurate before the end of the year. The former oil fabric, El Cocinero, which is found right after the Steel Bridge, in Playa, will be the new stage.
Apart from the usual presentations and concerts, the project will include all of the artistic expressions. In the new venue, they will offer visual arts lessons, dance workshops and they will even make movies. That is why, what was born as a project will now become a cultural movement.
The author of the successful albums Civilización (2005) and Revoluxion (2007), X Alfonso is currently one of the best known Cuban artists on a world scale. His work in the soundtrack of the Spanish-Cuban movie Habana Blues gave him a greater level of international stardom, since it was a soundtrack that won a Goya award to the best original music.
After five albums, the musician enters the cultural panorama with Reverse, a proposal which according to his author, is not to be sold, it is a present and it is to be open through the left side, an art antibiotic, a feeling, a way to reach you.
Translation: Karen López (Cubarte). Source: Cubarte
Author:
World Music Central News Department
World music news from the editors at World Music Central