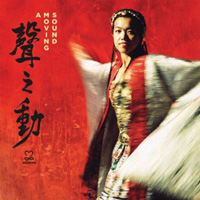 A Moving Sound
A Moving Sound (Motema Music, 2011)
Lush and exotic A Moving Sound is a stunning collection of tracks celebrating the musical tradition of Taiwan. The sweeping elegance of the Asian musical landscape, fashioned by A Moving Sound on this latest self-titled recording, plumbs the depths of ancient Chinese musical traditions and Taiwan's rich wealth of aboriginal and folk music in a context where fresh influences can take hold to make new world music connections.
A Moving Sound co-founder Mia Hsieh explains, "Taiwan has only been free from martial law for 20 years, so only now are some of these new influences coming in. When we started, not many people even knew what world music was here, and now more and more groups are wanting to try things. We believe music is a channel and a way to connect with people in a positive way, to go on a journey together. We want there to be no boundaries."
Beguiling and potent, A Moving Sound moves through achingly elegant tracks like "Silk Road" and "Gu Qin" with Ms. Hsieh's soaring vocals against a backdrop of zhong ruan, bass guitar by the group's co-founder, composer and arranger Scott Prairie, percussionist and erhu player Zhen-Jun Wo, erhu player Tang-Hsuan Lo, guitarst and zhong ruan player Hua-Zhou Hsieh. Listeners are treated to the brightly colored "Flying Dombra" the potently worked "Howling Wind" and the dark lovely "Ghost Lake," based on a Taiwanese aboriginal song about a girl who tells her mother that she's fallen in love with a lake spirit. Listeners get a dash of fun with "The Market Song" and the boldness found on the rhythm thick "Dynasty."
Ms. Hsieh explains, "The album goes from the heavens to the earth. "Songs like "Silk Road and "Gu Qin" are the meditative, transcendental side, but the CD also has very earthy songs like "The Market Song" or "Toh Deh Gong," which is a modern talking song, like rap, but the lyrics explore the traditions of how people worship the God of Earth, the most popular god in Taiwan. So this is folk culture, but it is also ground in a very ancient philosophy and religion."
A Moving Sound is a fantastical delight where time honored musical traditions leap headlong onto a new world music sound.
Author:
TJ Nelson
TJ Nelson is a regular CD reviewer and editor at World Music Central. She is also a fiction writer. Check out her latest book, Chasing Athena's Shadow.
Set in Pineboro, North Carolina, Chasing Athena's Shadow follows the adventures of Grace, an adult literacy teacher, as she seeks to solve a long forgotten family mystery. Her charmingly dysfunctional family is of little help in her quest. Along with her best friends, an attractive Mexican teacher and an amiable gay chef, Grace must find the one fading memory that holds the key to why Grace's great-grandmother, Athena, shot her husband on the courthouse steps in 1931.
Traversing the line between the Old South and New South, Grace will have to dig into the past to uncover Athena's true crime.