Cesaria Evora's management company and record label Lusafrica announced this morning in Paris that the renowned singer from Cape Verde will be retiring effective today.
Lusafrica's owner, José da Silva, who also produces and manages Cesaria Evora indicated that the Cape Verdian diva who turned 70 years old on August 27 had arrived in Paris "in a state of great weakness." She will be unable to complete her French tour, including a tribute concert programmed on Saturday, October 15 at Fiesta des Suds in Marseilles.
"Her new health problems come after she had to undergo several operations in recent years, including open heart surgery in May 1010," said the press release. "Her Paris doctors told her she had to cancel her upcoming tour, so Cesaria and her producer and manager Jose da Silva decided to end her career."
Cesaria Evora survived a stroke in April of 2008. In May 2010 she was urgently admitted to a Paris hospital, due to a cardiac problem.
Nicknamed the 'barefoot' diva for her habit of performing without shoes, Cesaria Evora is perhaps the best-known practitioner of morna, songs of sadness, sorrow and yearning.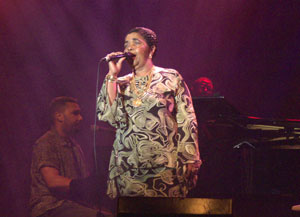 She began singing morna at age 16 and soon began performing all over the Cave Verde islands. She never left her homeland and in the mid-70s, she gave up singing. In 1985, at the age of 45, she returned to music and recorded two songs for an anthology of female Cape Verdean singers. This led to recording sessions in Paris, which resulted in four albums from 1988 to 1992. Her international fame grew, and she toured Europe, Africa, Brazil, and Canada, with stops in the United States.
Ten years later, she launched her first large-scale American tour, followed by the recording Cabo Verde in 1997 and Mar Azul and Café Atlantico in 1999. She went on to win the 2004 Grammy for Best Contemporary World Music recording for Voz D'Amor; and her 2006 release, Rogamar, became a favorite of old and new fans alike.
Read Rich and Warm as the Finest Liqueur, a review of her most recent album, Nha Sentimento.
Author:
World Music Central News Department
World music news from the editors at World Music Central