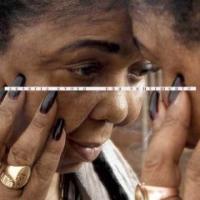 Cesaria Evora
Nha Sentimento (Lusafrica, 2009)
With thousands of adoring fans, six Grammy Award winning recordings to her name and a voice as rich and warm as the finest liqueur, Cesaria Evora will hit the airwaves with her latest Nha Sentimento on October 24. Dubbed the "Queen of Mornas," Ms. Evora's vocie has put her home of Cape Verde squarely on the musical map, but with Nha Sentimento she takes Cape Verde on the road to a downtown recording studio in Cairo, Egypt and dipped into a collaboration with Cairo Orchestra's former conductor Fathy Salama. Arranging three of the mornas on Nha Sentimento, Mr. Salama, along with some Egyptian musicians, turns the Ms. Evora's Cape Verdean sound into something extravagantly otherworldly.
Wonderfully rich and exotic, Nha Sentimento exudes the particular African/Portuguese Creole feel of Cape Verde, a sound made famous by Ms. Evora. Drawing heavily from the songbooks of Manuel de Novas and Teofilo Chantre, Nha Sentimento is rooted in the goodness of Cape Verde, but finds unexpected musical threads to weave its spell. Full of Latin rhythms and sassy swinging tunes, Ms. Evora's vocals burn through the haze like a warm wind as she does on "Serpentina" and the kicky little number "Verde Cabo di Nhas Odjos."
Melancholic tracks like "Vento de Sueste" and "Mam' Bia É So Mi" are quintessentially Cesaria Evora as her vocals turn out heartbreaking laments. "Mam' Bia É So Mi" is especially delightful with sultry piano, sweeping strings and a healthy dose of guitar. "Ligereza" pulses with accordion lines laid down by Henry Ortiz and a infectious rhythm, while "Fatalidade" and "Esperança de Mar Azul" possess a breezy sweetness. "Sentimento" blossoms into an exotic flower with Egyptian flute, chunky percussion and Ms. Evora's honeyed vocals.
My personal favorites are the bright and sassy "Tchôm Frio" and "Holandesa Co Certeza" or the Cuban tinged "Reposta Meniminhas de Monte Sossego" with its slinky piano lines.
Savvy, sophisticated and wholly satisfying, Nha Sentimento is richly rewarding and Ms. Evora's vocal's are stunningly radiant. She is indeed the "Queen of Mornas."
Buy the recording:
In North America: Nha Sentimento. Other recordings available: La Diva Aux Pieds Nus (Lusafrica 262212, 1988), Distino Di Belita (Lusafrica 262222, 1990), Mar Azul (Lusafrica 262232, 1991), Miss Perfumado (Lusafrica 262242, 1992), A L'Olympia (Lusafrica 795912), Sodade (Lusafrica lus94022, 1994), Cesaria (Lusafrica lus95012,1995), Cabo Verde (Lusafrica 262202,1997), The Very Best of Cesaria Evora ( Lusafrica 262802,1998), Cafe Atlantico (1999), São Vicente di longe (BMG, 2001), Voz d'Amor (BMG, 2003), Club Sodade [remixes] (Bluebird/Arista Associated Labels, 2004), Rogamar (RCA Victor, 2006)
In Europe: Nha Sentimento. Other recordings available: The Very Best of Césaria Évora, Cesaria, Cafe Atlantico, Miss Perfumado, Sao Vicente Di Longe, Club Sodade Remixes, Rogamar, Sao Vicente
Author:
TJ Nelson
TJ Nelson is a regular CD reviewer and editor at World Music Central. She is also a fiction writer. Check out her latest book, Chasing Athena's Shadow.
Set in Pineboro, North Carolina, Chasing Athena's Shadow follows the adventures of Grace, an adult literacy teacher, as she seeks to solve a long forgotten family mystery. Her charmingly dysfunctional family is of little help in her quest. Along with her best friends, an attractive Mexican teacher and an amiable gay chef, Grace must find the one fading memory that holds the key to why Grace's great-grandmother, Athena, shot her husband on the courthouse steps in 1931.
Traversing the line between the Old South and New South, Grace will have to dig into the past to uncover Athena's true crime.