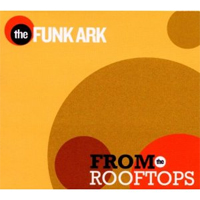 The Funk Ark
From the Rooftops (ESL Music ESL176, 2011)
I don't know what your reminiscences of the good old days are all about, but mine fondly recall times when music was made by actual musicians playing actual instruments in actual bands. As such, it only took seconds of listening to From the Rooftops for me to become a fan of The Funk Ark, an ensemble out of Washington DC. They bring the funk all right, and under the leadership of keyboardist Will Rast, who also lends his skills to such similarly sizzling outfits as Thievery Corporation and Ocote Soul Sounds, they do so with a tightly rendered assault of guitars, bass, horns, drums, congas and small percussion that feels like the work of some long-lost '70s band.
There's a prominent Afrobeat vibe to their sound -the title of the opening track "A Blade Won't Cut Another Blade" even sounds like one of those parables Fela Kuti might have based a song on- with a plentiful measure of heavy Latin and soul things going down as well.
The album is all instrumentals aside from some rapped vocals on the hometown big-up "Funky DC," but there are ample moods expressed without words. Witness the brooding pensiveness of "Pavement" in contrast to the bouncier likes of "Horchata" or "Katipo (The Spider)" and it's clear that this band's classic-sounding jams are truly something to shout about. These guys can and do play up a storm, and the ark they've built is plenty strong enough to survive the floods of cold, processed product that passes for dance music nowadays.
Highly recommended for Afrobeat heads, Latin heat seekers, rare groove devotees and anyone else who wants to shake it to something real and unspoiled.
Author:
Tom Orr
Tom Orr is a California-based writer whose talent and mental stability are of an equally questionable nature. His hobbies include ignoring trends, striking dramatic poses in front of his ever-tolerant wife and watching helplessly as his kids surpass him in all desirable traits.