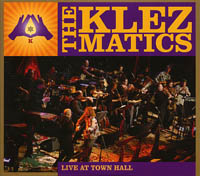 The Klezmatics – Live at Town Hall (Klezmatics Disc KD2010, 2011)
Roger Davidson – On the Road of Life (Soundbrush Records SR1020, 2011)
Could New York City's Klezmatics possibly have guessed that 25 years after their first album they'd still be going so strong? Perhaps, if for no other reason than the fact that they've proven how versatile Klezmer, a celebratory Jewish folk music with origins going back hundreds of years, can be. In their quarter century of existence, the Klezmatics have collaborated with a dizzyingly diverse array of musical talents ranging from Arlo Guthrie and Neil Sedaka to Mark Ribot, Chava Alberstein and the Master Musicians of Jajouka. They've also created musical backdrops for Pulitzer Prize-winning playwright Tony Kushner and renowned choreographer Twyla Tharp.
It's no surprise, then, that for their new double CD Live at Town Hall, the Klezmatics chose to present an all-out party with an orchestra's worth of special guests and music from every phase of their career and then some, including songs previously unrecorded. There are lots of the fast, nutty tempos and deft vocals that give klezmer its unique energy, starting with disc 1 opener "Man in a Hat." Things get more experimental once the jazz-laced "Rhythm + Jews with Horns Medley" kicks in, followed by the alternately haunting and gleeful "Dybbuk Suite." We're also treated to the choral buildup of "St. John's Nign" and rousing gospel-tinged "Elijah Rock," among others. The eclectic ride continues on the second disc, sporting such highlights as the religion-defying Holly Near composition "I Ain't Afraid," a string of spirited Woody Guthrie songs and a Moroccan-inspired jam preceding a return to a renewed sense of craziness culminating with "NY Psycho Freylekhs." Then it's back to the traditional for the encores, on which both slow burns and fever pitches wrap things up. It all makes for an experience as satisfying as a Passover feast with courses from all over the world. Let's hope the Klezmatics have at least another 25 years of brilliance in them. The album is available from www.klezmatics.com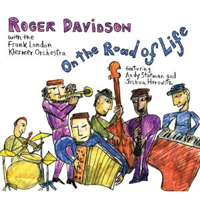 Klezmatics' trumpeter Frank London is also a player and arranger on pianist Roger Davidson's On the Road of Life, a sharp collection of instrumentals that reveal how much klezmer has in common with waltzes, tangos, cabaret and a range of folk music from Eastern Europe and beyond. Davidson brings a jazz man's sensibility to the combo he leads, which in addition to London boasts Klezmatics drummer Richie Barshay, Pablo Aslan on bass, Andy Statman on clarinet and mandolin and Joshua Horowitz handling accordion and cimbalom. The compositions are all Davidson's, and he definitely has a feel for klezmer that moves from lively to stately to evocative. Think of this as klezmer cool, with subtly superb musicianship at every turn.
Author:
Tom Orr
Tom Orr is a California-based writer whose talent and mental stability are of an equally questionable nature. His hobbies include ignoring trends, striking dramatic poses in front of his ever-tolerant wife and watching helplessly as his kids surpass him in all desirable traits.