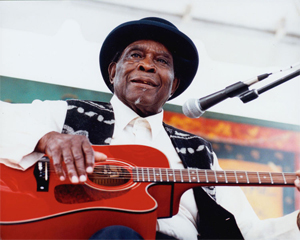 Legendary blues musician David Honeyboy Edwards died this morning Monday, August 29, 2011, about 3:00 am while resting peacefully at home. June 28, 1915 – August 29, 2011. He loved to say, "The world don't owe me nothing." Just shy of his 96th birthday, Honeyboy played his last gigs at the Juke Joint Festival and Cathead Mini-Festival in Clarksdale, Mississippi April 16 and 17, 2011.
David "Honeyboy" Edwards was born June 28, 1915 in Shaw, Mississippi. Honeyboy was a part of many of the fundamental moments of the blues. Honeyboy interacted with almost every major blues legend, including Robert Johnson, Charlie Patton, Big Joe Williams, Rice "Sonny Boy Williamson" Miller, Howlin' Wolf, Peetie Wheatstraw, Sunnyland Slim, Lightnin' Hopkins, Big Walter, Little Walter, Magic Sam, Muddy Waters.
In 1942, Alan Lomax recorded Honeyboy in Clarksdale, Mississippi for the Library of Congress. Honeyboy didn't record again commercially until 1951, when he recorded "Who May Your Regular Be" for Arc Records.
He moved to Chicago in the early 1950s, playing at small clubs and street corners with Floyd Jones, Johnny Temple, and Kansas City Red. In 1953, Honeyboy recorded several songs for Chess that remained un-issued until "Drop Down Mama" was included in an anthology release.
In 1972, Honeyboy met Michael Frank, and the two soon became fast friends. In 1976, they hit the North Side Blues scene as The Honeyboy Edwards Blues Band, as well as performing as a duo on occasion. Michael founded Earwig Records, and in 1979 Honeyboy and his friends Sunnyland Slim, Kansas City Red, Floyd Jones, and Big Walter Horton recorded "Old Friends".
Honeyboy's early Library of Congress performances and more recent recordings were combined on "Delta Bluesman", released by Earwig in 1992.
Honeyboy has written several blues hits, including "Long Tall Woman Blues", "Gamblin Man" and "Just Like Jesse James"
His latest release, Roamin and Ramblin, on the Earwig Music label, features Honeyboy's old school guitar and vocals – fresh takes on old gems and first time release of historic recordings. New 2007 sessions with harmonica greats Bobby Rush, Billy Branch and Johnny "Yard Dog" Jones, previously unreleased 1975 studio recordings of Honeyboy and Big Walter Horton, and circa 1976 concert tracks — solo and with Sugar Blue. Michael Frank, Paul Kaye, Rick Sherry and Kenny Smith also play on the album on various tracks. Honeyboy and Bobby Rush also tell some short blues tales.
'Grammy winner and 2010 Recording Academy Lifetime Achievement Award recipient David "Honeyboy" Edwards was a legendary bluesman with an impressive career spanning more than seven decades," said Neil Portnow, President/CEO of The Recording Academy. "A gifted artist, his authentic blues songwriting told stories of folklore and travels while showcasing his gritty, edgy guitar style and Mississippi Delta roots. Honeyboy played right up until the final years of his long life, and his legacy undoubtedly will continue to influence blues musicians for generations to come. Our sincerest condolences extend to his family, friends, fans, and those who continue to be inspired and moved by his soulful contributions."
David "Honeyboy" Edwards ' discography includes 'Who May Be Your Regular Be' (Arc, 1951), 'Build A Cave' (Artist, 1951), 'Drop Down Mama' (Chess, 1953), 'Old Friends' (Earwig 4902, 1979), 'White Windows' (Evidence 26039, 1988), 'Delta Bluesman' (Earwig/Indigo 4922, 1992), 'I've Been Around' (Savoy Jazz 17297, 1995), 'Crawling Kingsnake' (Testament 6002, 1997), 'World Don't Owe Me Nothing', live album (Earwig 4940, 1997), 'Don't Mistreat a Fool' (Genes, 1999), 'Shake 'Em on Down' (APO, 2000), 'Mississippi Delta Bluesman' (Smithsonian Folkways 40132, 2001), 'Back to the Roots' (Wolf, 2001), and 'Roamin' and Ramblin' (Earwig 4953, 2008).
Visitation will be Thursday September 1 from 6:00 pm to 9:00 pm, with an open mic for comments by his friends and fans from 7:00 to 8:00 pm at the funeral home. Services will be private on Friday September 2.
McCullough Funeral & Cremation Services
851 E. 75th St.
Chicago, IL 60619
Phone: (773) 488-8900
Author:
World Music Central News Department
World music news from the editors at World Music Central