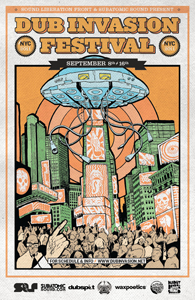 Dub Invasion Festival 2011 will be held in New York and Boston from September 7-16. The festival will include shows by world-class performers, including Lee "Scratch" Perry, Mad Professor, Adrian Sherwood, Brother Culture, Twilight Circus Dub and many others. There will also be music workshops, documentary screenings and more.
From its roots in 1960s Kingston reggae studios to its evolution into the digital age, dub helped give birth to modern remix culture and its influence and production techniques can be heard across countless genres, from electronica, to punk, hip-hop, and rock.
Lee "Scratch" Perry is hailed as one of the originators of dub music in 1970s Jamaica, alongside producers King Tubby and Errol Thompson. The Grammy award-winning producer, mixer, and songwriter is also notable for producing early Bob Marley classics.
Mad Professor is a legendary dub music producer based in the UK who has worked with artists such as Sly and Robbie, Jah Shaka, Horace Andy, and Massive Attack. He will be performing with Twilight Circus Dub from the Netherlands, who has collaborated with artists such as Big Youth and Michael Rose of Black Uhuru.
As the founding father of On-U Sound Records, UK-based producer Adrian Sherwood is well-known for his dub production as well as for remixes for Depeche Mode, Primal Scream, and Sinead O'Connor. For the festival, Sherwood will be performing a special set with the UK-based rasta MC Brother Culture.
The festival will also showcase the best of New York's diverse dub-oriented scene, with event partners Turntables on the Hudson, Deep Space, Universal Sundays, Downtown Top Ranking and Pressure Drop each hosting a special event.
Workshops, Documentaries and more
In addition to the wide variety of music performances, the Dub Invasion Festival is teaming up with DJ and production school Dubspot to present a series of events at their 14th Street location. These include:
· Dub production workshops with Mad Professor, Adrian Sherwood, and Clive Chin. Each of these legendary producers has been instrumental in the creation and development of dub music. They will share their stories and visions for the music, and showcase their techniques and musical concepts with live demonstrations followed by a Q&A sessions. Each master class will stream live on the Dubspot website: www.dubspot.com
· An afternoon of documentary screenings featuring the films Musically Mad, Devin D's Dub History and the critically-acclaimed Dub Echoes.
· A day of technology demonstrations and panel discussions with industry heavyweights, and a photo exhibit by Jamaican music writer Seb Carayol (featured in Wax Poetics magazine).
Check the website at www.dubinvasion.net for up-to-date schedules, event information and artist biographies.
Author:
World Music Central News Department
World music news from the editors at World Music Central