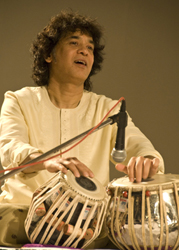 Zakir Hussain & Rakesh Chaurasia are set to perform on Friday, September 30, 2011, at 8:00 pm at Duke University's Page Auditorium in Durham, North Carolina.
In this unforgettable concert of intricately melodious music for tabla and flute, two great dynasties of Indian classical music converge.
Worldwide percussion icon Zakir Hussain is the son of legendary tabla player Alla Rakha, and returns to Page after a stunning concert there two years ago. Rakesh Chaurasia is the nephew and pupil of bansuri flute maestro Hariprasad Chaurasia. The bansuri is a simple tube of bamboo that is difficult to master and transcendent in tone.
Pairing fluent rhythm and melody, these virtuosi tap into South Asian traditions to forge a sound where modernity and myth intertwine.
Zakir Hussain & Rakesh Chaurasia
Friday, September 30 • 8 pm
Page Auditorium
Tickets: $38 • $30 • $20 • $5 Duke students
Recordings available:
Planet Drum,Global Drum Project,Essence of Rhythm,Best of Zakir Hussain,Raga Lalit / Raga Bairagi Bhairav,Golden String Of The Sarod,First LP Record,Mesmerizing Maestros,Live, Vol. 1,Soundscapes-music of the desert,Magical Moments of Rhythm
Tickets for all concerts on sale through Duke Performances' website: www.dukeperformances.org, at the Duke University Box Office on the top level of the Bryan Center, or by calling (919) 684-4444.
Author:
World Music Central News Department
World music news from the editors at World Music Central