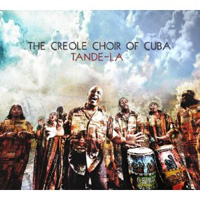 The Creole Choir of Cuba
Tande-La (Real World, 2010/USA: 2011)
The power packed Tande-La is a spiritual soaked, rip-roaring, riotous musical punch straight to the gut. The debut recording of The Creole Choir of Cuba unearths for a world wide audience the stunning sound of resistance songs, laments, prayers and hero songs of the choir's Haitian roots, with some songs having been passed down from family member to family member since the early 19th century. West African, Caribbean and Cuban influences wend their way through, but the Haitian soul reigns supreme throughout the music of Tande-La.
The group's members include Dalio Arce Vital, Emilia Díaz Chávez, Fidel Romero Miranda, Irian Ester Rondón Montejo, Marcelo Andrés Luis, Marina de Los Angeles Collazo Fernándes, Rogelio Rodriguez Torriente, Teresita Romero Miranda, Yara Castellanos Díaz and Yordanka Sánchez Fajardo. And, they are indeed an extraordinary choir with powerful vocals wrapped around rhythms that speak to your very soul.
The Creole Choir of Cuba – called Desandann or descendents in Cuba – is comprised of six women and four men, all from Camagüey, Cuba and part the Provincial Choir under the direction of Emilia Chavez. Singing in mainly Creole, the group exudes a majestic power on the freedom songs "Chen Nan Ren" and "Tande" that speaks to the suffering colonial slavery and the trials of the Haitian under the Duvalier Government. Opening freedom song "Edem Chante" is mesmerizing, but the laments of "Se Lavi" are just as powerfully poetic. Other gems on Tande-La include the sweeping vocals of "Maroule," the lamenting loveliness of "La Mal De Travay" and the haunting "L'Atibonite Oh."
To say that the vocals of The Creole Choir of Cuba are awe-inspiring is putting it mildly. Exotic, richly colored with Haitian and Cuban rhythms entwined with some extraordinarily dynamic vocals makes the power of Tande-La beyond words. Fans should be sure to check out the group's U.S. touring schedule from September 21 through to November 5th. The Creole Choir of Cuba is a group not to be missed.
Buy the album or MP3 downloads:
Author:
TJ Nelson
TJ Nelson is a regular CD reviewer and editor at World Music Central. She is also a fiction writer. Check out her latest book, Chasing Athena's Shadow.
Set in Pineboro, North Carolina, Chasing Athena's Shadow follows the adventures of Grace, an adult literacy teacher, as she seeks to solve a long forgotten family mystery. Her charmingly dysfunctional family is of little help in her quest. Along with her best friends, an attractive Mexican teacher and an amiable gay chef, Grace must find the one fading memory that holds the key to why Grace's great-grandmother, Athena, shot her husband on the courthouse steps in 1931.
Traversing the line between the Old South and New South, Grace will have to dig into the past to uncover Athena's true crime.