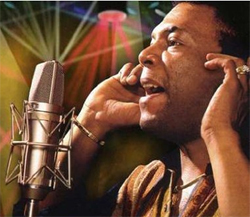 Legendary Colombian singer, songwriter and composer Joe Arroyo died this morning, Tuesday, July 27th, 2011, at 7:45 a.m. at clínica La Asunción in Barranquilla (Colombia). He had been admitted to the intense care unit due to cardiac problems, pneumonia, and renal failure.
Álvaro José Arroyo González (a.k.a. Joe Arroyo) was born in Cartagena de Indias (Colombia) on November 1st, 1955. He began his musical journey at the young age of 8, singing in one of his hometown's most popular music halls.
In 1971 he joined the very successful band Fruko y Sus Tesos (Fruko And His Buddies) and toured throughout Colombia, Ecuador, Peru and the United States, sharing the stage with legends such as Bobby Cruz, Celia Cruz, Hector Lavoe, Tito Puente, and Richie Ray.
Joe Arroyo also worked with other essential Colombian bands, such as The Latin Brothers and Los Líderes.
A decade later Arroyo formed his own band, La Verdad (The Truth) and was awarded the Conga De Oro Award by the acclaimed Colombian Carnival of Barranquilla.
His music crossed many styles including salsa, compas, merengue, reggae, and soca and he also developed his own style, the Joesón (a combination of Caribbean Colombian music such as cumbia, porro and champeta and various Caribbean styles like soca and reggae).
Some of his most famous songs include "La Rebelión", "El Caminante", "El ausente", "La Noche" and "Tania".
"Joe will remain present in every corner of our homeland. His music was made immortal. It will last from generation to generation and will never disappear from our memory," said renowned Colombian singer-songwriter Diomedes Diaz.
Sadly, the had announced this week that Joe Arroyo is one of this year's recipients of the Latin Recording Academy's Lifetime Achievement Award.
Watch Joe Arroyo's live performance in this music video titled En Barranquilla me Quedo
Author:
World Music Central News Department
World music news from the editors at World Music Central