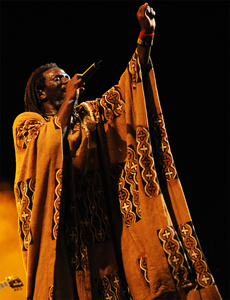 Tiken Jah Fakoly, Meta and the Cornerstones, Los Rakas and Adam "Atropolis" Patridge are set to perform Saturday, August 20th at Mainstage at Central Park, Manhattan.
Tiken Jah Fakoly has established himself as one of the figureheads of the new reggae scene in Africa. Fusing his infectious reggae beat with politically charged lyrics, Fakoly has become a spokesperson for an entire generation, speaking out on political and social injustices through his songs which have led to his exile from several African countries including his homeland, the Ivory Coast. On his latest album, African Revolution, Fakoly delivers the same poignant messages promoting social justice intermingled with catchy reggae melodies and African instruments.
Considered "the future of reggae music," by The National Geographic, Meta and the Cornerstones fuse afropop, hip-hop, rock and soul with an international mixture of vocals. This synthesis of reggae and soul with powerful lyrics and feel-good melodies creates something that transcends oceans, borders, and language barriers. Consisting of members who are as diverse as their music, each brings their own unique background to create a unifying and soul-pounding experience for audiences.
Los Rakas represent pan-American flows. Cousins who grew up in Panama before spending their teens in Oakland, California, Raka Dun and Raka Rico put a distinctive "Panabay" twist on hip-hop and reggae. Drawing on Panamanian plena's faithful approach to reggae and the Bay Area's idiosyncratic hip-hop scene, Los Rakas merge dancehall melodies with a lyricism all their own that has received accolades from tastemakers like The FADER and NPR for their hit single, "Abrazame."
Adam "Atropolis" Patridge has created an amalgamation of tropical/global bass/world sounds that reflect the mash-up of cultures in NYC and complements the cosmopolitan dance floor, where the crowd is as diverse as the music.
Saturday, August 20
Mainstage at Central Park, Manhattan
Doors at 2:00pm, Show at 3:00 pm
Author:
World Music Central News Department
World music news from the editors at World Music Central