Skirball Cultural Center is set to present its fifteenth annual free summer world music series. The Sunset Concerts will take place on six consecutive Thursday evenings from July 21 through August 25, at 8:00 p.m., free of charge, in the Skirball's festive outdoor courtyard.
The world music concert series is curated by Skirball Music Director Yatrika Shah-Rais. The 2011 Sunset Concerts season features an eclectic line-up of artists representing music from around the globe: Maria de Barros (July 21), the West Coast premiere of Red Baraat (July 28), Yemen Blues (August 4), Nuriya (August 11), Thomas Mapfumo and The Blacks Unlimited (August 18), and Mr. Vallenato (August 25).
"We are pleased to mark the quinceañera of Sunset Concerts at the Skirball," remarked Jordan Peimer, Skirball Director of Programs. "Presented as part of our mission to build a community that embraces every cultural and ethnic identity, the Sunset Concerts invite music lovers from across Los Angeles to gather in our spectacular courtyard and experience the best in world music today."
The spirit of welcome that brings world music fans from all over Southern California to the Skirball each summer spills over into the concert experience itself: friends and families share picnics, fans bring their own instruments and join in, and jubilation and dancing fill the courtyard through the night.
The 2011 Sunset Concerts season begins on Thursday, July 21, with Maria de Barros, who invites audiences to
experience the joyful musical traditions of her native Cape Verde. Through her work, de Barros expresses the
important influence that French culture and music have had on her life growing up in West Africa. In addition
to the African- and Latin-inflected coladeiras and bluesy mornas common to Cape Verdean music, de Barros
also takes inspiration from the music of Spain, the Caribbean, and Latin America.
On Thursday, July 28, Sunset Concerts continue with the West Coast premiere of Red Baraat. MC and Master
dhol (North Indian drum) player Sunny Jain founded Red Baraat in celebration of sounds he remembers from
childhood trips to his parents' native India, along with the rock and ska he grew up loving. Melding the
infectious Punjabi rhythm known as Bhangra with a funk reminiscent of New Orleans brass, the critically
hailed New York–based ensemble mesmerizes audiences with its powerful and joyous live show.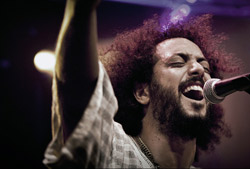 Founded by rising star and charismatic Yemenite Israeli vocalist Ravid Kahalani and arranger/bassist Omer
Avital, the nine-member Yemen Blues plays an ebullient mix of traditional Yemenite Jewish melodies, American
blues, jazz, funk, and West and North African grooves on Thursday, August 4.
On Thursday, August 11, Nuriya combines sizzling Spanish vocals with rumba flamenco, Afro-Cuban drumming, Arabic melodies, Gypsy brass, and rhythms from the Middle East and the Caribbean. Born in Mexico City into a Jewish Middle Eastern and Latin family, the lively young singer studied Afro-Cuban music in Cuba and Hebrew and Arabic melodies in Israel. At the Skirball, Nuriya takes the stage backed by a stellar multinational ten-piece ensemble.
Widely revered in his homeland as the "Lion of Zimbabwe," Thomas Mapfumo brings the protest music he
invented known as Chimurenga (which means "revolutionary struggle" in Shona) to the Skirball on Thursday,
August 18. His compositions mix traditional Shona mbira (thumb piano) music with Western rock and other
modern genres. Even as they decry social injustice, political oppression, the AIDS crisis, and domestic
violence, Mapfumo's uplifting, upbeat, and danceable songs celebrate the human spirit and speak to the
universal need for freedom.
The 2011 Sunset Concerts season concludes on Thursday, August 25, with Jorge Villarreal (a.k.a. Mr.
Vallenato), the renowned Mexican American accordion virtuoso who brings to the stage his lifelong and deep
love for Colombian folk music, including cumbia and vallenato.
Skirball Cultural Center
2701 N. Sepúlveda Blvd.
Los Angeles, CA 90049
(310) 440-4500
Free admission; no reservations
Limited seating on a first-come, first-served basis
Parking: $10 per car (cash only). Carpooling is encouraged.
Street parking is strictly prohibited.
Or take Metro Rapid 761.
All Skirball galleries (except Noah's Ark) are free and open until 10:00 p.m. during Sunset Concerts, including
the popular exhibitions Houdini: Art and Magic and Masters of Illusion: Jewish Magicians of the Golden Age.
Zeidler's Café's dinner buffet, starts at 6:00 p.m. Reservations are required and can be made starting two
weeks prior to the Thursday evening concert by calling (310) 440-4575. Lighter fare can be purchased at
Zeidler's Cart.
Guests may bring their own picnic dinners. Note: No outside alcoholic beverages or chairs are permitted.
The 2011 Sunset Concert Series is made in part by: Department of Cultural Affairs, City of Los Angeles; Hotel Angeleno; Los Angeles County Arts Commission; Morgan Stanley; Rhino Entertainment
Author:
World Music Central News Department
World music news from the editors at World Music Central