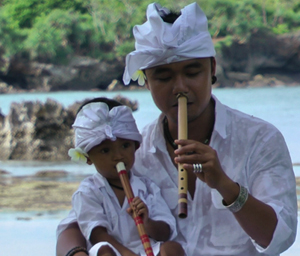 The "Morning Happiness" video features one of the greatest artists of Bali, Agus Teja. Mark Kneer produced the video.
Agus Teja founded "Gus Teja" World Music in 2009. He built and tuned the Tingklik Baro (bamboo instrument ), Slokro / Slonding Chromatic ( Balinese metal instrument ) and flute himself. In 2010 he released his first album called "Rhythm of Paradise". Which is now one of the best selling Albums in Bali. He also performed at the World Music Festival Ubud 2010 and Ethnic Music Festival Sanur 2010 just to name a few.
"Gus Teja" World Music is an ethnic music group that blends traditional music instruments such as slonding, tingklik, drums, and flute combined with modern musical instruments like guitar and bass guitar. Furthermore, "Gus Teja" World Music features flutes from all around the world, like the Native American flute, shakuhachi, pan flute, bansuri, and of course also Balinese Flute.
Author:
World Music Central News Department
World music news from the editors at World Music Central