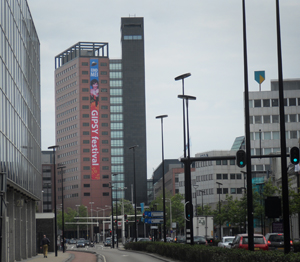 One of the best musical discoveries for me this year has been Tilburg's Gipsy Festival in Holland, May 28-29. The festival has been running since 1997 and celebrated its 15th anniversary this year.
"Gipsy culture is a wonderful phenomenon: in all countries where it appears it has his own colour, influenced by the local music but with a clear gipsy feeling," said festival director Albert Siebelink in an interview.
17 bands played over two days in a grassy park in the centre of town. The bands switched between two stages seamlessly, providing non-stop musical delight for eight hours each day on Saturday and Sunday. Other musicians also played in the lawns at the back of the park.
Day One of the festival featured free performances by Dutch bands playing Balkan gipsy and fusion. Day Two was a paid event, featuring original gipsy bands. Being a gipsy festival, many festival goers wore colourful headscarves and hip scarves. The weather on Saturday evening turned drizzly and cold, but Sunday was a festival-goer's dream with clear blue sunny skies.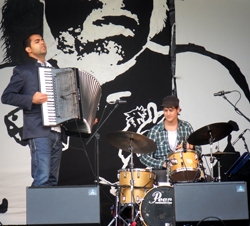 Day One
The festival kicked off with the five-piece band Over de Balk, headed by Stanislav Jusufovic from Serbia on accordion. The band blended Balkan tunes with jazz and Latin influences, especially on their takes of Chick Corea's classic "Spain."
The energy picked up several notches with the colourful band L'Chaim, an eight-member group from Delft blending Balkan, punk and klezmer music. Formed in 2006, the youthful band played tracks from their two albums "For Goat's Sake" and "Gipsy Trouble." Their songs "Gipsy Trouble" and "Caribbean Penguins" delighted the audience, and the three vocalists sang in a range of languages: Italian, Dutch, French and Macedonian. For one song the musicians played squatting down, and then slowly stood up as the tempo picked up. Jan Droog on cajon and Myrthe Weetering on violin really stood out with their flair.
The six-piece band Kasha Nasha carried on in fine style, adding Cuban jazz, reggae and funk to the Balkan melting pot, along with Russian lyrics. The band's name means "Our Mush" or "Our Gruel" in Russian. Gottfrid Eck played clarinet as well as the Armenian flute. Daniel Mathot delivered some fine guitar solos, and Kay Ramati provided solid driving support on bass.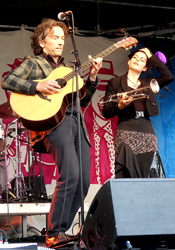 The talented guitarist Branko Galoic and his Skakavac Orkestar followed with a terrific set. The group included Swedish trombonist Michael Rorby, Dutch tuba player Merel Schoutendorp, and the lovely Raya Hadieva from Bulgaria on trumpet. It turned out to be Raya's birthday on the day of the concert, and the audience greeted her heartily. Branko Galoic was absolutely superb on acoustic guitar. "This is Balkan guitar style along with some flamenco influences," he explained to me later in an interview.
The six-piece group Kalio Gayo followed with a fast paced set blending ska, punk and folk music. Renske Das on accordion and Anja Plead on guitar sang in a language I did not recognise at all. I met Renske after their set and she said the language was entirely concocted and came from "east of your imagination!" The band's message is "rebellious optimism," she explained. The audience joined the band in their song "Heeren" in a loud chorus.
The most energetic band of the evening was Amariszi, who would also be declared as the winner of the Dutch Balkan Contest later in the day. The cheerful sound from this youthful eight-piece band was terrific, and they kept the energy swinging from soulful ballads to foot-stomping Balkan ska within the same songs. Vocalist Meredith Simons delighted the audience by passing them a bottle of the Bulgarian alcohol rakia, and the chorus of "Ra Ra Ra Ra Rakia" was on everyone's lips long after the band's performance! Her scatting and jamming with the instrumentalists were superb, and drummer Dolf Huybers even playfully drummed on the bottle of rakia when it was passing him.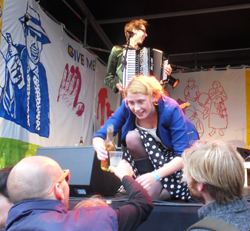 The evening ended in fine imperial style with the 10-piece band Marius Preda's Unknown Allstars, headed by the charismatic Marius Preda on the cimbalom. His duets with Antal Steixner on cajon were magnificent, as well as call-and-response jams with vocalist Florian Mocanas who sang in the Romani language. Cezar Cazanoi really shone on the flute as well. The group even rendered a playful rendition of some Michael Jackson tunes.
It was still daylight in the Dutch spring, and I made the most of it by walking around and exploring the city centre of Tilburg, where the bars were filled with football fans cheering the Barcelona team as they trounced Manchester United!
Day Two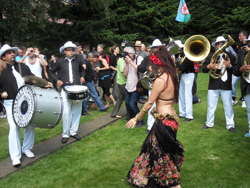 Day Two began right at the gates of the festival with the group Orkestar Braka Kadrievi. They are originally a Macedonian gipsy brass band who have played the soundtrack of the movie "Time of the Gipsies" by Emir Kusturica. The full lineup of the band, currently in its fifth generation, consists of over 40 members of the extended Kadrievi family. Currently led by the cheerful Masar Jasarov-Kadrievi, the band is hugely popular at weddings and parties. The band traces its family roots to 1923. The lineup includes two tubas, a bass tuba and tapan drum. Their songs blend Oriental and Western sounds.
Brass bands trace some of their roots to Turkish military bands, and are still popular in Balkan villages. Their influence spread when some gypsies moved out of Turkey, and the bands play for the "gadjes" – non-gipsies – as much as they play for themselves. Some brass bands have also imported melodies from Bollywood films. Masar's son Seven Kadrievi has his own band as well, called Original Gipsy Ska, which gives the upbeat Balkan music even more of a tight ska touch!
The band is currently based in Antwerp, where they met the Belgian-Lebanese bellydancer Sarah Chebaro. Sarah joined them at the Tilburg festival, where she also did double duty as translator for the band when I interviewed them. "Our message is that music is a way of life. We are proud to be Roma," said Masar. "Music is the best medicine – it is better than taking pills, it is your soulmate," added Sarah.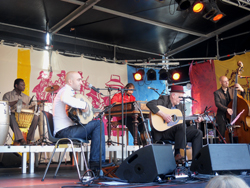 The main stage performances kicked off with the Holland-based Mirando Roma Gipsy Orchestra. The 11-piece band featured three generations of the Mirando family, founded by Tata Mirando. The festive set profiled five violinists, and even without a percussionist the band delivered a powerful performance. The lineup included Mirando Roma on violin, Soenie Brandt on bass, Prala Brandt on piano, and the young Gino Brandt as violinist in training.
The texture of the festival moved in a completely different direction with the next group, No Blues, which defied all classification. Balkan cimbalom with Arabic oud and West African djembe – featuring blues sung in English and Arabic?! Palestinian Haytham Safia on oud, Dutchman Ad van Meurs on acoustic guitar, Romanian Vasile Nedea on cimbalom and Sudanese Osama Maleegi on percussion really blew everyone's mind. The "Arabicana" songs featured terrific solos by all the instrumentalists, and their renditions of blues classics could best be described as "world blues."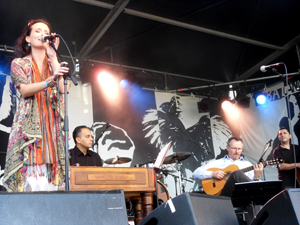 The next group pushed the cimbalom in even further dimensions: Kálmán Balogh & the Gipsy Cimbalom Band. Kálmán Balogh is a renowned Hungarian cimbalom player, descending from a prominent family of Hungarian gipsy musicians. He is a graduate of Ferenc Liszt Academy of Music of Budapest, and was awarded the Hungarian distinction of "Young Master of Folk Arts" in 1985. His six-piece group blended folk, jazz and symphonic music.
The cimbalom, a hammer dulcimer played with large mallets like a vibraphone, possesses piano like percussive abilities to both drive a band rhythmically as well as take the melodic lead – and Kalman is an expert in both textures. The dialogues between vocalist and cimbalom, and between cajon and cimbalom, drew rousing applause.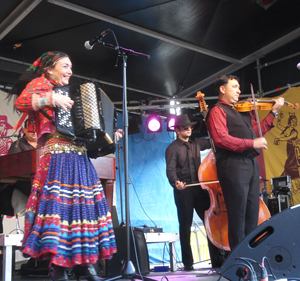 The Nadara Gipsy Wedding Band from Romania then took over on the second podium, with a high-energy set of gipsy dance. Alexandra Beaujard on accordion and vocals also performed a range of gipsy dance styles, with superb accompaniment on violin by Ferenc Iambor (also Alexandra's husband) and Aladar Pusztai on cimbalom.
The name of the band means "don't worry" or "don't be afraid," said Alexandra in an interview after her performance. "Our message is that gipsies and non-gipsies should not be afraid of each other," she said. Gipsies have problems due to poverty and crime, and at the same time they are victims of discrimination. Roma and Sinti gipsy communities have been unfortunately described as the "rejected Europeans."
"We are proud of our music," said Alexandra. "Music is without borders, and our music is not private – we welcome others playing our gipsy music, and there are also DJs experimenting with our music," she added. Her organisation does community work for gipsy children as well.
The next very creative band was Fatima Spar and the Freedom Fries, a Vienna-based group formed in 2004. The group blends Balkan, Turkish and jazz styles along with strong progressive messages. The band derives its name from the euphemism for French Fries used in the US in 2002 after the French government's refusal to support the US invasion of Iraq.
Lead vocalist Fatima Spar sang in English and Turkish, and the group performed tracks from their albums Zirzop and Trust. I first heard the group at the WOMEX festival in 2008, and it was a delight to hear them perform again in Tilburg.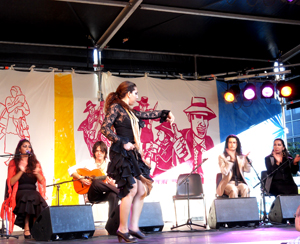 The most spellbinding performance at the festival was by Maurice Leenaars and Flamencos de Malaga. It featured Dutch flamenco guitarist Maurice Leenaars, and Spanish flamenco dancers Antonio de Verónica and Saray Cortés. Lead vocalist Luisa Muños was joined by Maria Emma Gimenez and Juan Heredia on cajon.
The dance solos by Antonio and Saray were unbelievable, and the musicians took the audience from tearful soul-searing melodies to foot-stomping crescendos in each song. Saray Cortés Giménez from Barcelona started her dance training at the age of five, and Antonio de Veronica from Malaga started his dance journey when he was seven. Nothing compares to the thunderous climax of a live flamenco performance, and the group left the audience breathless.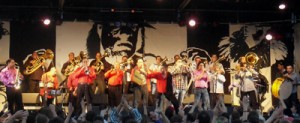 The perfect climax for the festival was the next brilliant act, the Balkan Brass Battle. It actually featured two bands: Boban I Marko Markovic from Serbia "versus" Fanfare Ciocarlia from Romania. There were 25 musicians on stage, and the Serbian band played in the right half of the stage dressed in blue while the Romanians were on the left and dressed in red. The bands alternated with each other at times and played together for some pieces, all in the spirit of a playful competition!
The Serbian brothers Boban Marković and Marko Marković on trumpets and vocals even experimented with African sound with the track "Afrika Paprika," and Romanian saxophonists Oprica Ivancea and Daniel Ivancea drifted into the Pink Panther theme, to the audience's amazement and delight. 10 children from the audience even clambered onto the stage, and the bands cheerfully played along with them.
"We had 1,500 people at the festival on Saturday and 2,500 on Sunday," said festival director Albert Siebelink when I managed to catch him for an interview on the last day. "Gipsy music will always be popular, and young musicians in Holland also play their music," said the beaming and abundantly bearded Siebelink.
"Unfortunately, gipsies have faced a lot of discrimination, especially under Nazi rule. It is important to focus on their rights through exhibitions, film and documentary programs," said Siebelink.
I picked up a stack of a dozen CDs for review from the bands, and I look forward to this festival again in future. Many of the gipsy bands I spoke to said they also want to play in India and perform in the land of their roots. Mazar Kadrievi even invited me to his home for a meal and meet his "Indian" family, and I was delighted to present him with a copy of my Indian Proverbs book!
Other related festivals recommended to me by the artistes include the International Romani Art Festival in Romania, Prague's annual Khamoro Festival of World Gipsy Music, the Gipsy Lyon Festival in France, and Jerez Flamenco Festival in Spain.
I have covered performances in the past by the gipsies of Rajasthan, gipsy jazz bands of France, and flamenco troupes of Spain — and I was truly excited to attend this Gipsy Festival in Holland for the first time!
Related links:
Author:
Madanmohan Rao
Madanmohan Rao is an author and media consultant from Bangalore, and global correspondent for world music and jazz for World Music Central and Jazzuality. He has written over 15 books on media, management and culture, and is research director for YourStory Media. Madan was formerly World Music Editor at Rave magazine and RJ at WorldSpace, and can be followed on Twitter at @MadanRao.