World music festival WOMAD Abu Dhabi 2011 continued to entertain large audiences with explosive performances on Friday night at the Corniche in Abu Dhabi and at the Al Jahili Fort in Al Ain. Jamaican ska and reggae legend Dr Jimmy Cliff headlined day 2, his mellow Caribbean style echoing across the golden sands at the Corniche, while The Dhol Foundation's infectious beats and Senegalese superstar Baaba Maal brought the two-day festival at Al Jahili to a close for 2011.
Honduran Aurelio's Garifuna Soul delighted the audience and Omar Bashir caused the crowd to pause with his beautiful flamenco influenced music. Russian Terem Quartet, Kora player Toumani Diabaté from Mali and the amazingly energetic Afro Celt Sound System added to an already fantastic line-up at the Corniche. Not to be outdone, captivating performances from Khaira Arby, Khyam Allami and Andrea Piccioni, Pakistani sufi singer Sain Zahoor and Senegalese superstar Baaba Maal were experienced by a very happy crowd at Al Jahili Fort.
In the workshop sessions at the Corniche, Muntu Valdo shared the secrets to his wonderful sawa blues, Dubai Drum's gathered families together in what proved to be a very popular drumming session and Speed Caravan's 'rhythm and oud' session had the audience eagerly asking questions and enjoying Mehdi Haddab's stories behind the fusing of traditional oud and contemporary dance music. Word had got round from Thursday night's screening and so the second viewing of short animation film Abu Dhabi Dub was very popular.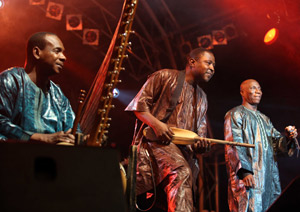 Once again Taste the World sessions filled the Trispan with wonderful smells and a hungry audience as N'Faily Kouyaté's Guinean Tiga Dji and El Tanbura's bamboute spiced fish were cooked. The final workshop at Al Jahili Fort was conducted by Ripton Lindsay. Stories of Ripton's first workshop must have got out as his dance session had people from all over copying his Jamaican dance moves.
The children's workshops continued with much fanfare. Dot to Dot (UK), Taking Shape (UK), and David Cox (UK) returned for another round of exciting and informative workshops with the children, while Henna Painting sessions were also organized. The Art of the Ndebele mural is something that should be sort out as the near finished artwork looks beautiful at WOMAD Abu Dhabi. It was also another busy evening for the children at the Al Jahili Fort with Malarky (UK) and Young Archaeologist spearheading a variety of fun-filled kiddie activities.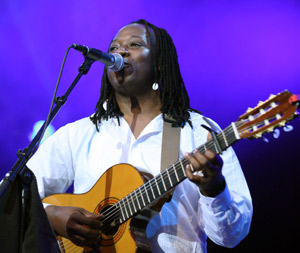 Abdullah Al Amri, Director of Arts and Culture Department at ADACH, said: "It is certainly very inspiring to see people of all ages and from different nationalities coming together to support the festival and enjoy the music and artistic creations of the some of the world's finest musicians and visual artists. The WOMAD Abu Dhabi Festival has carved out its place as one of the most influential music and arts festivals in the UAE and we are deeply thankful to all the performers and the thousands of visitors who have been very appreciative of the diverse musical genres that are being showcased."
Chris Smith, WOMAD Director, said: "We are pleased with the overwhelming response of the public to WOMAD Abu Dhabi 2011. I am sure that many music and arts fans will have a lot of memorable experiences this year. The energetic, live performances and the infectious beats have certainly provided the perfect backdrop for the meaningful cross-cultural interactions and discussions that are being held throughout the festival. We recommend that everyone in the UAE should visit the festival on Saturday night. This is an exclusive opportunity to witness some of the best musicians and artists from all over the world perform live. – It is not a night to miss."
WOMAD Abu Dhabi 2011 will conclude today (Saturday, April 09, 2011) at the Corniche in Abu Dhabi with an intriguing line-up of performers that includes Goran Bregovic Wedding and Funeral Band (Serbia/Macedonia/Bosnia). Other performers tonight are Sain Zahoor (Pakistan), El Tanbura (Egypt) with Hindi Zahra (France/ Morocco), Tarab Al Emarat (UAE) with Omar Bashir (Iraq/ Hungary) and Speed Caravan (Algeria/France).
WOMAD Abu Dhabi Festival 2011 is being held at the Corniche in Abu Dhabi from 7-9 April and at the Al Jahili Fort in Al Ain from 7-8 April.
Author:
World Music Central News Department
World music news from the editors at World Music Central