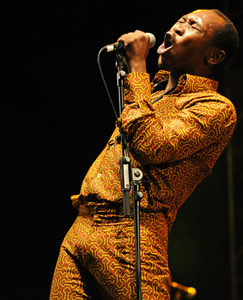 Afrobeat will be celebrated at Roskilde Festival 2011 with two of its biggest stars. For the first time ever, Fela Kuti's two sons Seun Kuti and Femi Kuti are on the same stage. Named after a song by Fela, Roskilde Festical organizers call this double show "Just Like That".
The two brothers take the stage together after having played separate shows. Roskilde Festival and the Kuti brothers' base are now working on making a concert experience full of surprises that will match this central event in the history of the Afrobeat genre.
Femi Kuti & Positive force played an emotional concert the day after the Roskilde accident in 2000. Femi started out in his father's backing band in the 80s. Today he is playing with his fourteen-piece band. Straight from The Afrika Shrine, Lagos, he combines raw hard-edged rhythms, the complexities of Miles/Gillespie-inspired brass and seductive dancers, all in one awe-inspiring show.
Seun Kuti & Egypt 80 conquered Roskilde Festival's Cosmopol stage in 2007 with a tremendous party. Seun is the youngest of the Kuti sons and plays with his father's old legendary band. The red-hot mix of funk, sparkling horns, musical joy and political indignation continues. Yet, Kuti junior relates just as much to the present music scene as he does to his iconic family name.
The global music scene has always been in focus throughout Roskilde Festival's history. With this sensational meeting between the Afrobeat dynasty's greatest living pioneers, the festival continues being an event that not only reflects the music scene but also sets up new musical meetings.
Fela Kuti enjoys great attention in the West. A musical about the genre-creator and freedom fighter – FELA! – played for 14 months on Broadway. After that it was London's turn, and in April the play will be performed in Kuti's homeland Nigeria. In New York, Copenhagen, Paris and London numerous young bands are inspired by this festive, hip-shaking funk. Roskilde Festival rides on the top of the Kuti wave and invites everyone with a preference for energetic, vigorous music to take part in this historic Afrobeat party.
Seun Kuti recordings available:
Author:
World Music Central News Department
World music news from the editors at World Music Central