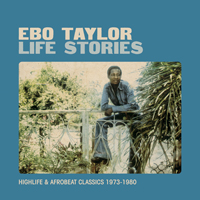 Ebo Taylor
Life Stories (Strut STRUTO72CD, 2011)
Ghana's Ebo Taylor has been making music for more than half a century, first as a frontman, arranger and composer with big bands playing in the highlife style that became wildly popular in the 1950s. Furthering his musical education in London in the early'60s (at the same time as Nigeria's Fela Kuti), he formed the Black Star Highlife Band and expanded his sound to include jazz elements.
Upon his return to Ghana, he became a much sought-after arranger and producer for several of the country's biggest stars. The '70s saw him back to making music under his own name and with various side project bands.
These works form the basis of Life Stories, a two-CD set that showcases some of Taylor's most hard-hitting material as guitarist, vocalist, composer, producer, arranger and guiding hand. Shades of the jazz he picked up on in the U.K. are evident along with Afrobeat, funk, soul and revisits to the traditional music at the roots of highlife.
The discs are packed with great grooves, tart riffs and songs in constant motion. Not one track among the 16 skimps, though particular standouts include the ironic tone of "Victory" (which laments what it can cost to achieve such), the slightly eerie "Peace on Earth," a 15-minute Afro/Latin/jazz romp on "Aba Yaa" and the snug coupling of electric piano and guitar that powers "Ene Nyame 'A' Mensuro," a collaboration with Pat Thomas. And that's just the first disc.
The second features short, tight tracks Taylor laid down at the helm of the Apagya Showband, parabolic Afrobeat recorded with Uhuru-Yenzu, Super Sounds Namba sounding super on an ever-timely song about greed, and the wrenching "Egya Edu," a tale of incest by another of Taylor's bands, the Pelikans.
So while not every one of these Life Stories is happy, the music that accompanies their telling is always superb.
Buy the album:
Author:
Tom Orr
Tom Orr is a California-based writer whose talent and mental stability are of an equally questionable nature. His hobbies include ignoring trends, striking dramatic poses in front of his ever-tolerant wife and watching helplessly as his kids surpass him in all desirable traits.