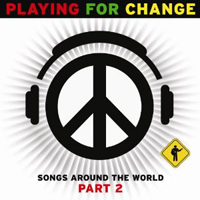 With the approval and support of the Marley Estate, Playing For Change sought to create a truly global recording of Bob Marley's "Redemption Song." The stunning video includes Japanese musician Hiromitsu Agatsuma on shamisen, Congolese guitarist Jason Tamba, Congolese vocalist Mermans Kenkosenki and vocalist Stephen Marley.
The video is an introduction to the upcoming release of Playing For Change – Songs Around The World Part 2 (Hear Music/Concord Music Group) on May 31st, 2011. By filming and recording dozens of musicians from around the world, filmmaker, producer and PFC founder, Mark Johnson captures stunning musical collaborations that seamlessly blend diverse styles of music into powerful performances.
Playing For Change – Songs Around The World Part 2 expands on the journey that made Playing For Change one of 2009's most unusual cultural phenomenons. The 2-disc CD/DVD package is a global mix of cultures and rhythms featuring original songs written for the album, as well as reinterpretations of internationally loved recordings including Bob Marley's "Redemption Song," Stevie Wonder's "Higher Ground" and John Lennon's "Imagine."
Playing For Change caught the public's awareness in 2009 when their version of the song "Stand By Me" accumulated over 30 million views on YouTube. Johnson and his crew mixed the performances of 18 street musicians, a South African Choir and a Native American drum group into a clip that went viral on the Internet after Johnson appeared on PBS' Bill Moyers' Journal. "Stand by Me" laid the foundation for the best selling CD/DVD set Playing for Change: Songs Around The World, which debuted at #10 on Billboard's Pop Chart in April of 2009.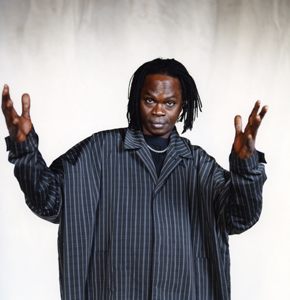 In 2008 Playing For Change entered into a joint venture with Concord Music Group through the support of label co-owner, entertainment legend Norman Lear and Concord Music Group chief creative officer John Burk. The hard work and perseverance of Concord Music Group's team has played an essential role in the Playing For Change story, powering the effort to bring PFC's vision and inspiration to fruition.
The true measure of any movement is what it gives back to the people. The Playing For Change Foundation embodies this and works toward building, maintaining and connecting music schools across the globe.
The Foundation's first project, the Ntonga Music School in South Africa, opened in 2009. In addition, The Foundation has opened three music schools in Nepal as well as schools in Ghana, Mali and Rwanda, with more in the planning stages. To create links between the schools, Playing For Change is working with engineers from NASA. They want to offer third world countries the ability to connect with the outside world through the Internet.
"We recently went to MIT in Boston with NASA engineers," Johnson says. "We had Boston high school music students connect in real time with kids in our school in South Africa. They were performing and interacting with each other and, at the end of the session, they were in love with each other. All prejudice was wiped away. That's the motivation behind the PFC Foundation."
"Songs Around The World, Part 2" is a continuation and evolution of our desire to present music to inspire the world," Johnson says. "The journey of this album takes us from a village in Mali to the favelas (slums) of Brazil, from New Orleans to India, Jamaica to Japan. We stopped in 15 countries and recorded more than 150 musicians. The quality of our technology has improved. It sounds and looks better."
The music on Songs Part 2 is truly global, a dizzying mix of styles, cultures and rhythms. Baaba Maal's arrangement of Bob Marley's "Three Little Birds" has an African groove that's complimented by rhythms from eight Brazilian percussionists, Keb' Mo's Delta blues guitar, trap drummer Courtney "Bam" Diedrick's reggae backbeat and D. Chandrajit's tabla. Tinariwen, a band of musicians from the deserts of Northern Mali, play a kind of music that incorporates American blues, African rhythms and Tuareg folk music. They provide the driving pulse for Stevie Wonder's "Higher Ground" and their own "Groove in G," an improvisation that features Ag Alhabib's electric guitar, Hiromitsu Agatsuma's shamisen and a dozen Indian, African, Jamaican and Brazilian drummers and percussionists as well as subtle improvisations from sitar, veena and sarod players.
The recording also features a performance from The Wailers' last European tour along with a click track using Bob Marley's vocal.
Recordings: Playing for Change Live, Playing for Change: Songs Around The World
Buy Playing For Change – Songs Around The World Part 2
Author:
World Music Central News Department
World music news from the editors at World Music Central