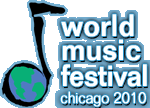 The largest and longest running festival of international music in the United States returns with over 80 artists at 30 venues throughout Chicago. The City of Chicago celebrates the best of today's international music at the 12th annual World Music Festival this September 21-30, 2010. The city-wide, multi-venue, week-long festival has attracted over a half million concertgoers and has presented more than 500 artists and ensembles from over 75 countries since it began in 1999. This 2010 festival includes nearly twice as many artists as previous editions.
Organized by the Chicago Department of Cultural Affairs (DCA), the festival showcases both traditional and contemporary music from diverse cultures across the world. This year's events will include performances by Khaïra Arby (Sarahan desert rhythms from Mali), Mahala Rai Banda (high energy gypsy sounds from Romania), Razia Said (a blend of African music and contemporary R&B from Madagascar), Pansori Brecht (a Korean narrative musical inspired by the work of Bertolt Brecht), Rajeev Taranath & Nayan Ghosh (top Indian classical musicians), Oreka TX (Basque masters of percussion instrument chalaparta), among many others.
Presented at area museums, parks, cultural centers, plazas, theaters, clubs, and other venues, events include a combination of free and low-cost ticketed concerts, many of which are family friendly.

New additions to World Music Festival Chicago 2010
The three-day India Calling! festival featuring free music concerts, arts exhibitions, cooking demonstrations, dance performances, yoga and meditation classes, and a handicrafts village. These events take place in the Chicago Cultural Center and Millennium Park, from September 21 to the 23.
A free documentary film marathon on Saturday, September 25, in the
Chicago Cultural Center. The screening includes films on festival performers
DJA-Rara, Joan Soriano, and Oreka TX.
The World of Instruments exhibition in the Chicago Cultural Center from
September 27-30, in the Chicago Cultural Center. The collaboration with
Andy's Music features a selection of instruments from Andy Cohn's incredible
and eclectic personal collection, rarely on view to the public. The
instruments are beautiful examples of those played by festival performers
and artists around the world.
A showcase of Chicago's international music promoters, including
Bhangratheque, RATIOnation, Arteyvidachicago, SoundCulture Chicago and
GlobalGroove Chicago, to highlight the many events that are produced
year-round in Chicago.
Several new participating venues including Mayne Stage, St. Josaphat's
Church, Darkroom, and Second Presbyterian Church.
World Music Festival Chicago 2010 is presented by the Chicago Department of Cultural Affairs and is made possible with generous support from the National Endowment for the Arts; The Chicago Community Trust; the John D. and Catherine T. MacArthur Foundation; United Airlines, the Official Airline of the World Music Festival; the Ministry of Tourism, Government of India; Chicago Public Radio 91.5 FM WBEZ; and the Chicago Office of Tourism.
Additional support has also been provided by Andrew I. Dane and Mary Elizabeth Ferraro; the Inner-City Muslim Action Network; The Consulate General of the Republic of Korea in Chicago; the Korea Foundation; Program of African Studies at Northwestern University; India Classical Music Society; WNUR 89.3 FM; Whole Foods; and Instituto Cervantes of Chicago.
For more information, visit www.WorldMusicFestivalChicago.org
Author:
World Music Central News Department
World music news from the editors at World Music Central