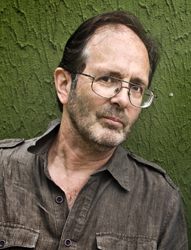 WOMEX announced the winner of the WOMEX 2010 Award for Professional Excellence. The award goes to British musician and journalist Ian Anderson (UK), founder and editor-in-chief of the magazine fRoots, on behalf of the independent press.
Anderson will receive his Award on Sunday morning, 31 October 2010, at the Awards Ceremony accompanied by a WOMEX Networking Breakfast, both open to WOMEX delegates only. The laudation will be offered by the leading journalist Robin Denselow (UK), known for his work with the BBC and The Guardian among others.
"Since 1999 we have given the WOMEX Award to extraordinary artists and professionals from our community deserving of special praise  but we have never ever awarded the media," says the WOMEX press release. "And yet the independent media play such a crucial role for our kind of music business, part of us, supporting us and providing a vital forum for topics that otherwise would fall through the grid or answer only to big-media-corp interests.
With the Internet bringing change to all traditional business models, offering the media world its own urgent challenges – note, for example, our parallel debate concerning music, free downloads and beyond – now, more than ever is the time to show our support for an independent media."
British journalist Robin Denselow takes over from here to shed light on Ian Anderson's voyage: "1979 may have been a great year for British rock and pop music, but this was a terrible year for folk music or roots music. It was a year of great post-punk bands like XTC, the Specials, Dire Straits, and of course disco. As I noted in one of my reviews that year, 'Folk rock, once one of the healthiest strands in British popular music, is in a pretty miserable state these days'."
"But this was the year when a young folk music musician with gloriously eclectic taste and an international outlook, decided to start a fanzine, published quarterly, called The Southern Rag. In doing so helped to kick-start the new folk revival that was to come, and the success of what came to be known as 'world music'."
"The Southern Rag did well. It attracted international subscribers, and in 1984 it became a monthly called Folk Roots. It has always been charmingly quirky, in terms of lay-out and design, and in 1999 the editor made the decidedly quirky decision to change the name to fRoots. And heaven help anyone who pronounced it the way it was spelled and called it 'froots'."
"The man responsible for all this was, of course Ian Anderson. Also known as Ian A. Anderson, to avoid confusion with a certain flute-player, he had already enjoyed a lengthy and colorful career as a musician, independent record-label pioneer and producer, specializing first in country blues before switching to what is now called Psych-folk."
"His musical career has continued, of course, most recently with Blue Blokes 3. But it's as the editor of fRoots that he has revived the fortunes of roots music, in Britain and beyond. Along with Charlie Gillett and Joe Boyd, he was one of the small group who dreamed up the term 'World Music' in 1987. And as all those who read fRoots will know, he is an enthusiast, a maverick and a guide, who promotes great new artists long before they have been discovered by the mainstream media. That's why an independent magazine like fRoots is so vital to the music scene. And that's why it's only right that Ian Anderson – exemplar of the independent roots press – should receive this award."
Related links:
Author:
World Music Central News Department
World music news from the editors at World Music Central