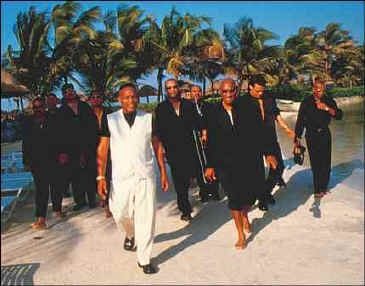 Elito Revé, the heir to Orquesta Revé will perform at SOBs on Saturday, July 17th with his band, 'Su Charangon'. The legendary Orquesta Revé, commonly known as "El Charangon" was founded in 1956 by Elio Revé, a brilliant musician from Guantanamo (Cuba).
Today, it is his son, Elito Revé, who continues the musical direction of the band. Many of the musicians and singers currently at the forefront of the Cuban music scene have been at one time or another members of Orquesta Revé, and it is most likely for this reason that the band was given the nickname of the "Mother" orchestra. The group and now Elito are undoubtedly musical legends in Cuba and have achieved world-wide fame.
Within Elio's artistic formation in Guantanamo, there is distinct evidence in the music of the mixed cultural heritages of Cuba, most noticeably the beautiful Afro-Cuban musical synthesis from a combination of both Afro-Spanish and Afro-French influences present in the different historical periods of Cuba's development.
Recordings available: Changui En La Casa De Nora, Se Sigue Comentando, Arriba Las Manos, Mi Salsa Tiene Sandunga
When: Saturday, July 17th, 2010 at 11:30pm
Where: SOBs, 200 Varick St. Manhattan, NY 10014
Ticket Info: $30 Advance, Available at Ticketweb.com
Author:
World Music Central News Department
World music news from the editors at World Music Central