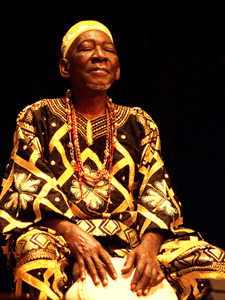 The National Endowment for the Arts announced today that Ghanaian drum master Yacub Addy, who resides in upstate New York, will be awarded a 2010 National Heritage Fellowship. The award is America's highest honor for folk and traditional arts, recognition for a lifetime of artistic excellence and his efforts to conserve America's culture for future generations. Eight other artists from a variety of ethnic traditions join Addy in receiving this great honor.
In extending congratulations to this stellar group of artists, Chairman Landesman said, "Their works of art have delighted and challenged us, illuminated our sense of the world, and refreshed our understanding of what is possible".
Yacub Addy is the eldest living drummer in the renowned Addy family of drummers from Avenor, Accra, Ghana. He is a master of traditional music of the Ga ethnic group, a creator of new works rooted in tradition, and a committed educator. His music took him from Ghana to Europe and the United States of America, where in 1982 he created the acclaimed performance ensemble Odadaa!, which he leads to this day.
With Odadaa!, Addy has also collaborated with artists of other traditions, most notably with Wynton Marsalis on the Africa Jazz concerts at Columbia College in 2003, and the ground-breaking seminal co-composition Congo Square, which premiered in New Orleans in 2006. Addy's pioneering work has preserved and added significantly to the vibrant music and dance heritage of Ghana, and retained in the United States a standard of traditionality rare in Ghana today.
Addy has been a member of the faculty of the Music Department of Skidmore College in Saratoga Springs, NY since 1995. Odadaa! is currently in residence at The Empire State Plaza Performing Arts Center (The Egg) in Albany, NY.
Addy's biography and music and video samples are on The National Endowment's web site at http://www.arts.gov/honors/heritage/fellows/fellow.php?id=2010_01. Much more information on his activities is available at http://www.yacubaddy.com.
Photo credit: Enid Farber
Author:
World Music Central News Department
World music news from the editors at World Music Central