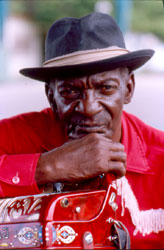 Renowned Belizean musician Wilfred Peters died of a heart attack at Karl Heusner Memorial Hospital in Belize City on June 9 of 2010. Wilfred Peters was a Belizean national icon and one of the country's best loved musicians. Performing with accordion and guitar since the age of seven, Wilfred Peters' reputation grew, and by his early teens he found himself in demand throughout Belize. He was known as The King of Brukdown, a Belizean style born in the logging camps of 17th century British Honduras.
"Belize mourns the loss of Mr. Wilfred Peters, who died this afternoon [June 9], two months after a tribute concert in honor of him, held in Belize City," said lawyer, writer, and filmmaker Nyasha Laing. "The King of Brukdown, Mr. Wilfred Peters is a Belizean national icon and one of the country's most loved musicians. He was known for his distinctive "brukdown" music, a folk sound born out of the mahogany camps of the slavery era in Belize.
Mr. Peters perfected this Caribbean sound and incorporated his own style of "Boom and Shine," layering accordion melodies over the raw percussion of a syncopated turtle shell, grater, and donkey jaw bone. Brukdown artists, with call and response, told the stories of the rural people.
With harmonies borrowed from Europe and lyrics reflecting the Belizean Creole language and experience, the music was embraced by urban Belize and became a national genre. Like so many artists, Mr. Peters died poor, but he never lost his endless wit, humor, and storytelling skill. May he rest his soul."
His most recent recording was Weh Mi Lova Deh released on Stone Tree Records in 2000.
Photo courtesy of Stone Tree Records
Author:
World Music Central News Department
World music news from the editors at World Music Central