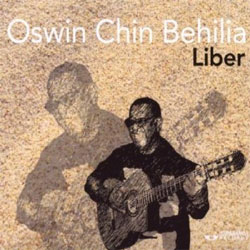 Oswin Chin Behilia
Liber (Otrabanda Records, 2010)
Oswin Chin Behilia's Liber is bright and breezy as a warm Caribbean breeze and utterly effervescent as a fine champagne. The third in a series of releases by Mr. Behilia on the Otrabanda Records label, Liber shimmers musically, while the lyrics express some of the political and social realities of Mr. Behilia's native Curacao and the tensions between the Antilles and the Netherlands. Starting his songwriting career in the early 1960s, Mr. Behilia is the musical statesman of Curacao, penning the song "Plegaria," which many in Curacao consider the country's folk national anthem, and the classic love ballad "Sunú."
Whether it is a dreamy love ballad or a pointed protest songs, Mr. Behilia's warm vocals transform each track of Liber into something magical. Dipping heavily into a plumy calypso sound, Mr. Behilia incorporates other Caribbean influences like the native Curacaoan tumba, sehu and the Cuban son montuno as musical platforms.
With Mr. Behilia taking the lead on guitar and vocals, Liber sweeps the listener away with additions of Yeyo Calderon on congas, Arnell Salsbach on piano, Alex Montero on tres guitar, Julian Coco on acoustic guitar, Hershel Rosario and Ruben Scoop on electric bass, Ernie Gregorius, Lonte Conradus and Erwin Kastaneer on additional percussion and Norman Moron in synthesizer and strings, as well as a whole host of backing vocals that include Mr. Calderon, Mr. Salsbach, Mr. Rosario, Roxanne Rosario, Magali Juliana.
Opening with the sparkling "Zikinza," Liber launches the listener into a musical, social and political of Cuacao's life and people. The lush "Buta La Pasta," a flirty tribute to a woman cook, the achingly lovely ballad "Si Abo No T'ei" and the breezy freedom song and title track " Liber" are just a few of the gems found on this recording that will have listeners swept along as if on a warm breeze.
Mr. Behilia surrounds the critical "Ata Toni" with a bright melange of guitar, congas, piano, bass and plenty of percussion as he takes stabs at bureaucrats, free loading journalists and government stoolies. He makes over "Krupshon" in a similar fashion, creating a light, breezy sound with guitar, bass, percussion and synthesizer to shake his finger at the corruption on Curacao. Wrapped around a lovely arrangement "Pasku Bashi" or "Empty Christmas" boasts some blistering lyrics like: Christmas on the rocks; And in the hot sun; Tons of preparations; For an empty Christmas; Buying clothes; Selling to swindle; Plenty of hypocrisy; Superficial Christmas.
Closing Liber with "Sigi Traha E Bom," Mr. Behilia cautions and rallies Curacao locals against Holland and its political, financial and social failures in a composition that sounds like a party song.
Mr. Behilia has brilliantly masked his political and social worries for the Curacao people in a delightfully festive sound. Liber might just be one of the few protest recordings I heard that works both joyously and socially.
Buy the album:
Author:
TJ Nelson
TJ Nelson is a regular CD reviewer and editor at World Music Central. She is also a fiction writer. Check out her latest book, Chasing Athena's Shadow.
Set in Pineboro, North Carolina, Chasing Athena's Shadow follows the adventures of Grace, an adult literacy teacher, as she seeks to solve a long forgotten family mystery. Her charmingly dysfunctional family is of little help in her quest. Along with her best friends, an attractive Mexican teacher and an amiable gay chef, Grace must find the one fading memory that holds the key to why Grace's great-grandmother, Athena, shot her husband on the courthouse steps in 1931.
Traversing the line between the Old South and New South, Grace will have to dig into the past to uncover Athena's true crime.