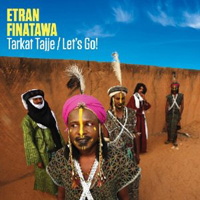 Etran Finatawa
Tarkat Tajje / Let's Go (Riverboat Records/World Music Network TUGCD1055, 2010)
Don't assume that this album's built-in title translation or the exclamation point at the end of it are indicators that Etran Finatawa are departing drastically from what has become their signature sound. With their jangling riffs, yearning vocals and rumbling, clattering percussion, this guitar-wielding Tuareg and Wodaabe band from Niger still comes across very much in the now-familiar "desert blues" vein mined by Ali Farka Toure, Tinariwen and a growing host of others.
Where they've expanded is in the length of some of the songs, with the unity-urging "Aitma" topping the list at 10 minutes, and a perspective that's gone beyond nomadic roots and speaks more of their growing status as Saharan musical ambassadors. So even as they lament the precariousness of desert life in songs like "Diam Walla" ("No Water"), they also appeal to the wider world, imploring those in positions of power to be attentive to human suffering with "Imuzaran" and questioning the value of unjust leaders on "Ummee Ndaaren" ("Stand Up And Go For The Right Thing"). If you don't speak the band's language, of course, it's as reassuring to know they're singing about worthy things as it is invigorating to enjoy the raw thrust of the music.
While my favorite Etran Finatawa release remains their previous one Desert Crossroads, this third effort of theirs, recorded in the midst of the band's 2009 European tour, finds them continuing to ride high and rock it cool and steady. If you're already a fan, you'll want to add this to your collection. If the Etran Finatawa crew is new to you, take the title's advice and get a move on.
Buy the group's recordings:
In North America: Tarkat Tajje / Let's Go, Introducing Etran Finatawa, Desert Crossroads

Author:

Tom Orr

Tom Orr is a California-based writer whose talent and mental stability are of an equally questionable nature. His hobbies include ignoring trends, striking dramatic poses in front of his ever-tolerant wife and watching helplessly as his kids surpass him in all desirable traits.