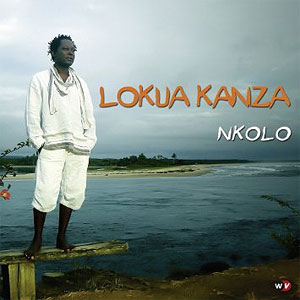 Lokua Kanza
Nkolo (World Village, 2010)
World Village has an uncanny knack for finding the hottest tickets in world music and Nkolo, the latest recording by master musician, composer and songwriter Lokua Kanza. Having collaborated with the likes of Youssou N'Dour, Geoffre Oryema, Bisso Na Bissso, Enzo Enzo and Al Jarreau and composed for such artists as Miriam Makeba, Sara Tavares, and Papa Wemba, Lokua Kanza has crafted a stellar career that includes globe trotting tours and an array of recordings such as Lokua Kanza, Wapi Yo, Toyebi Te and Plus Vivant, as well as the collaborative recording Toto Bona Lokua with musicians Gerald Toto and Richard Bona. Mr. Kanza pulls out all the stops on Nkolo, creating a sound that's sleek, fresh and utterly enchanting.
Drinking deeply from all the world music wells, Nkolo flashes brilliant with nods to Mr. Kanza's African roots, his expansive musical collaborations and the flavors absorbed in travels between bases in Paris and Rio. He says of Nkolo, "What I want to do through this album is convey the beauty and depth of the Africa of my childhood; but at the same time, I've added something else, a creative touch born of all the influences I've been subject to."
Opening with the delicately kalimba laced "Elanga Ya Muinda," Nkolo is a whirlwind journey of musical shadings that simply shimmer with Mr. Kanza's vibrant vocals and a rich musical sense that defies mapped territory and joyously soars skyward. The silky smooth "Dipano" is wrapped around sparkling guitar lines, while the hymn like "Mapendo" wraps the listener in the warm, buttery vocals of Lokua Kanza and Malaika Lokua. The blues tinged title track is steeped in Mr. Kanza's soulful vocals over a landscape of harmonica, bass, percussion, flute, kalimba and guitar.
"Famille" possesses a charmed sweetness, followed by the stunning vocals of "Loyenge" before the rich Rio sound of "Soki" overtakes, fashioned out of guitar by Mr. Kanza, cuica by Marco Lobo, backing vocals by Roselyne Belinga, bass by Guy Nsangue, ondes Martenot by Thomas Bloch and guitar solo by Pathy Molesso. The dreamy "Vou Ver" and the kalimba laced "Yalo" are two more gems to be found on Nkolo.
Lokua Kanza has fashioned a triumph with Nkolo. Nothing could be truer of Nkolo than Mr. Kanza own words and desire to "plant a sort of baobab it would be good to sit under when you're feeling out of sorts or looking for your roots."
Buy Nkolo and his other recordings: Lokua Kanza, Wapi Yo, Toyebi Te and Plus Vivant
Author:
TJ Nelson
TJ Nelson is a regular CD reviewer and editor at World Music Central. She is also a fiction writer. Check out her latest book, Chasing Athena's Shadow.
Set in Pineboro, North Carolina, Chasing Athena's Shadow follows the adventures of Grace, an adult literacy teacher, as she seeks to solve a long forgotten family mystery. Her charmingly dysfunctional family is of little help in her quest. Along with her best friends, an attractive Mexican teacher and an amiable gay chef, Grace must find the one fading memory that holds the key to why Grace's great-grandmother, Athena, shot her husband on the courthouse steps in 1931.
Traversing the line between the Old South and New South, Grace will have to dig into the past to uncover Athena's true crime.