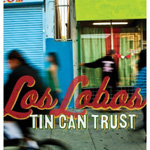 Los Lobos, the Grammy-winning East Los Angeles band, announced the release of their brand new studio album, Tin Can Trust, to hit streets on August 3, 2010. With Tin Can Trust—Los Lobos' first release for Shout! Factory and first collection of new original material in four years— the venerable quintet once again redefines itself and expands its scope, while never losing sight of where they come from. And, like so much of Los Lobos' previous work, Tin Can Trust is an album that speaks to the time and place in which it was conceived; the album's title can be traced back more than a century, but for the band, it's apt for the rickety state in which so many of us find ourselves—and our world—today.
The 11 tracks on Tin Can Trust offer the perfect balance of Los Lobos' parts: the band's lineup has remained uninterrupted since 1984, when saxophonist/keyboardist Steve Berlin joined original members Louie Pérez (guitar, drums, vocals), David Hidalgo (guitar, violin, accordion, percussion, vocals), Cesar Rosas (guitar, vocals) and Conrad Lozano (bass, vocals), each of whom had been there since the beginning in 1973.
Seven songs on the album are Hidalgo-Pérez collaborations, including the opening track "I'll Burn It Down," which features a guest vocal harmony from blues-rocker Susan Tedeschi. Three others were written in whole or in part by Rosas – including the album's two Spanish-language numbers: the cumbia "Yo Canto" and the norteño "Mujer Ingrata" – and display Los Lobos' signature seamless infusion of Mexican folk songs into rock music. Also included in Tin Can Trust – a cover of the Grateful Dead's "West L.A. Fadeaway" – offering a nod to the bands' shared history that extends back into the 1980s when the Angelenos befriended and opened shows for their northern peers.
Tin Can Trust reveals "an intuitiveness," says Los Lobos songwriter/multi-instrumentalist Louie Pérez, "that happens only from being in a band for so long."
Los Lobos has enjoyed a 36-year ride with the same line-up intact. The band has notched a number one single with its rendition of "La Bamba," the 1987 Billboard smash that practically turned the group into a household name overnight, has won three Grammys, and has sold countless records. It has shared the stage with acts as varied as Dylan, The Clash, and U2 and has received tremendous critical acclaim–from a major label debut, How Will the Wolf Survive? (which made Rolling Stone's 500 Greatest Albums of All Time) to the quintet's recent Los Lobos Goes Disney (an album featuring 13 all-time Disney classics, each given the raw and raucous Los Lobos treatment).
Buy Los Lobos' CD or MP3 download:
In North America: Tin Can Trust. Other titles available: Los Lobos Goes Disney, The Town and the City, One Time One Night: Live Recordings, Vol. 1, Kiko, La Pistola y El Corazon, How Will the Wolf Survive?, By the Light of the Moon, Acoustic En Vivo, The Neighborhood, Colossal Head, Good Morning Aztlán, Papa's Dream, This Time
Europe: Other titles available: Los Lobos Goes Disney, How Will the Wolf Survive?, The Town and the City, This Time, La Pistola y el Corazón, Colossal Head, Live at the Fillmore
Author:
World Music Central News Department
World music news from the editors at World Music Central