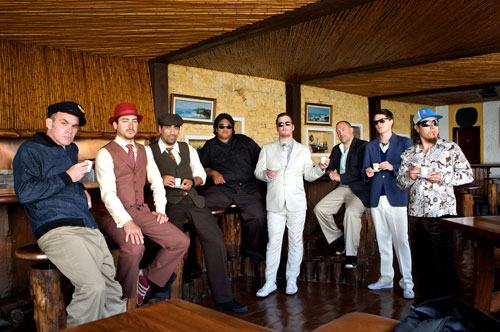 New Zealand funk and reggae band Fat Freddy's Drop is returning to the U.S. for a 2010 summer tour. The band will be performing throughout California and Hawaii. Fat Freddy's Drop includes a Maori singer/songwriter and Maori musicians, a Samoan beat master, and a Kiwi horn section, who have absorbed Black American music and other world sounds in many forms. "We've absorbed a few influences along the way: Berlin Bashment, Portuguese Top Forty, Tooting Bhangra Beat and Montmartre TV Shop Techno Hi-Life," says trumpet player Tony Chang.
"I grew up listening to American Black music from the early '70s, loving soul music and loving jazz, and discovering reggae and hip-hop," explains electronics wizard Chris Faiumu (a.k.a. Fitchie). "That music wasn't that developed here. I had to look offshore to find good music. And it mostly seemed to be African-American artists of the '70s and '80s."
In the music of Black America and early reggae, native Islanders found resonance in the lyrics of resistance and solidarity with their situation on the laid-back island. "Indigenous people drew parallels in the work of Bob Marley in their own struggle here in this country," continues Fitchie, who is Samoan. "Reggae is a music that suits the taste of life here. When you go to New York City, it's a big change of pace for us. Reggae is good for our kind of island lifestyle."
Fat Freddy's Drop's latest recording, Dr. Boondigga & the Big BW, is a distillation of their live jams, which is what they love to do best.
Fat Freddy's Drop 2010 Tour Details:
June 19 – 2010, Sat
Boonville, CA
Sierra Nevada World Music Festival, Mendocino County Fairgrounds
Tickets: $145-3 Day, $55/65 Single Day
Show: 8:00 pm
Ph: 916.777.5550
June 20 – 2010, Sun
San Luis Obispo, CA
Avila Beach Bowl, 6464 Ana Bay Drive
Show: 6:00 pm (approx.)
June 23 – 2010, Wed
San Diego, CA
4th & B, 345 "B" Street
Show: 9:00 pm
June 24 – 2010, Thu
Los Angeles, CA
Henry Fonda Music Box Theatre, 126 Hollywood Boulevard
Tickets: $17.5
Doors Open: 8:00 pm, Show: 10:00 pm
Ph: 323.464.0808
June 25 – 2010, Fri
San Francisco, CA
The Independent, 628 Divisadero St.
Tickets: $20
Doors Open: 8:30 pm, Show: 9:00 pm
Ph: 415.771.1421. Ages 21+
June 26 – 2010, Sat
San Francisco, CA
The Independent, 628 Divisadero St.
Tickets: $20
Doors Open: 8:30 pm, Show: 9:00 pm
Ph: 415.771.1421. Ages 21+
July 1 – 2010, Thu
Honolulu, HI
Pipeline Cafe, 805 Pohukaina Street
Tickets: $22. VIP-$45
Doors Open: 9:00 pm, Show: 11:30 pm
Ph: 808.593.9603
July 2 – 2010, Fri
Lahaina, Maui, HI
Lahaina Civic Center, 1840 Honoapiilani Highway
Ph: 808.661.4685
July 3 – 2010, Sat
Kailua-Kona, HI
Kona Bowl, 75-5591 Palani Road
Author:
World Music Central News Department
World music news from the editors at World Music Central