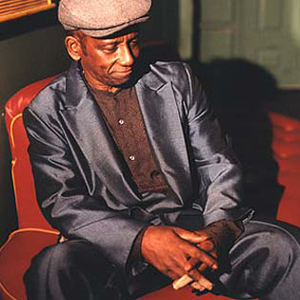 One of the last "Giants' of Latin Music, Afro-Cuban percussionist Francisco Aguabella died in Los Angeles on May 7, 2010 of a cancer-related illness.
Born in 1925 in Matanzas (Cuba), Francisco Aguabella was a conga master, soloist, batá player, orchestra leader, Afro-Cuban folkloric group leader, sideman and composer. He was raised in the drumming tradition of Matanzas, an area steeped in African traditions.
He composed "famous" big band mambos for the Tito Puente Orchestra, such as "Agua Limpia Todo" and Complicacion," that tore up the Latin dance halls in New York and all over the nation as the Latin bands toured the U.S. during the 50's mambo dance era. These bands integrated all races to go to the dance halls to learn the mambo. Francisco on rare occasions played timbales.
Francisco told me that the legendary batá master "Cha Cha" Vega, was the first person to place the batá drum on his lap. He left Cuba to tour Europe and South America with the world famous Katherine Dunham Dance Troupe. Francisco told me that Catherine Dunham had noticed that he had become depressed by leaving his homeland of Cuba and wanted to return back to Cuba. She surprised him by adding his friend Julito Collazo to her tour. Julito surprised Francisco on the ship, and they both drummed for the tour.
In the mid-1950s, he emigrated to the US and established himself in California, where he was well known as a master conguero in secular forms of Afro-Cuban music, including rumba and son, and Latin jazz. His goal was to maintain the integrity of the tradition that he so deeply respected, while incorporating it into "crossover" music aimed at broader audiences. He was also an olu batá (batá drummer) in sacred Santería ceremonies.
As a friend, mentor, colleague & teacher, Francisco Aguabella had an association with colleagues such as; Tito Puente, John Santos, Eddie Palmieri, Michael Spiro, Manny Oquendo, Rebecca Mauleon, Armando Peraza, Patricia Thumas, Peggy Lee, Nerio De Gracia, Susie Hansen, Ramon & Tony Banda, Jules Rowles, Julito Collazo, Les Moncada, Manny Oquendo, Poncho Sanchez, Peggy Lee, Pete Escovedo, Carlos Santana, Sheila E., Daniel Ponce, Carlos "Patato" Valdes, Israel "Cachao" Lopez, Merceditas Valdes, batalero Raul Diaz, Jose"Papo" Rodriguez, Mongo Santamaria, batalero Candido Martinez, Lazaro Gallaraga, Nengue, Tony Rosas, Richard Kermode, Frank Sinatra, Catherine Dunham, Carmelo Garcia, Tommy Lopez, Wayne Wallace, Jules Rowles and more.
Francisco Aguabella was the youngest of all conga drummers in the United States, having the most knowledge of any other drummer, regarding rare Cuban rhythms. He told me that he would sleep in the band bus while touring with the orchestra, due to the fact the he was black. I told him that he needed to preserve the Cuban rhythms for future drummers. He surprised me with a tape set of Francisco Aguabella y sus Tambores Bata and has recorded another non comparable Cuban folkloric recording.
Aguabella enjoyed an extensive performing and recording career, working with such artists as Dizzy Gillespie (who called him "the John Coltrane of conga drums"), Tito Puente, Frank Sinatra, Eddie Palmieri, Cachao, Peggy Lee, Nancy Wilson, Weather Report, Carlos Santana, Poncho Sanchez, Paul Simon, Bebo Valdes, and others.
Francisco Aguabella recorded on the Cubop /Ubiquity Records label, which reissued some of his early albums, such as Hitting Hard and H2O, as well as a newer albums such as Ochimini, Cubacan and Agua de Cuba.
He was featured in Les Blank's documentary, Sworn to the Drum, and in Aguabella, currently in production.
Aguabella lived in Los Angeles, where he taught Afro-Cuban drumming at the University of California, Los Angeles (UCLA), and performed with his group, Francisco Aguabella's Latin Jazz Ensemble. In 1992 he was awarded a National Heritage Fellowship from the National Endowment for the Arts.
Most recently, Francisco Aguabella was scheduled to perform as one of The Conga Kings, together with fellow master congueros Candido Camero and Giovanni Hidalgo on May 15, 2010 in New York City.
He will live in the lives of future musicians forever and there will be no other conguero in the Universe like him.
Author:
Les Moncada
Les Moncada is a Latin Jazz orchestra leader and conguero for over 40 years. He was born in Oakland, California and currently resides in Sacramento, California.
Les Moncada is a student of conga and batá master Francisco Aguabella, a friend of the late promoter Bill Graham, vibraphonist Cal Tjader, Latin Jazz band leader Pete Escovedo, conguero Mongo Santamaria and many, many more.
He has been writing for many years for World Music Central.
Les has several Facebook sites: Timbales and Congas Bongo Bata & bells; Conguero, Professional Conguero & their Instrument; Bongocero, Professional Bongocero their Instrument; Alambres Dulces, Tres, Cuatro & Laud