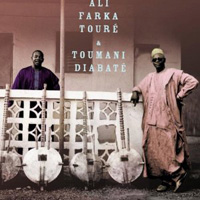 Ali Farka Toure & Toumani Diabate
Ali & Toumani (World Circuit WCD083, 2009)
I was among the many who were delighted to learn that In the Heart of the Moon was not the final collaboration between late guitarist Ali Farka Toure and kora player Toumani Diabate. The two Malian music masters spent an additional three days in a London studio in June 2005 to record what Diabate calls "a more refined record" than the earlier one. And he's right. Whereas In The Heart Of The Moon was a more delicate probing of sounds that built its magic slowly, Ali & Toumani finds the duo already attuned to one another and, despite the debilitating illness that was encroaching upon Toure at the time, noticeably stronger musically. So the predominantly instrumental tracks tend to launch immediately into tightly locked interplay that's loaded with tandem and traded virtuosity.
Toure's acoustic guitar and Diabate's 21-stringed harp/lute compliment each other perfectly, not only from a tonal standpoint but in the way each seamlessly shifts from lead to supporting role and blurs the line in between with crystalline expertise. Some of the pieces, like the Afro-Cuban sway of "Sabu Yerkoy" and "Sina Mory," a Mande legend set to music, date from the early years of Toure's artistry in the '50s and '60s. Others, such as Diabate's on-the-spot composition "Fantasia," bring the session up to date by grabbing sparks of inspiration and making instant fire of them.
Cuban bassist Orlando "Cachaito" Lopez anchors a few tracks and Ali's son Vieux Farka Toure adds congas and shakers to a few more along with percussionist Tim Keiper, elegantly framing the work of the two main players as they cast their sweetly binding spell. I couldn't venture a guess as to what other recently recorded Ali Farka Toure material may yet be unreleased, but if Ali & Toumani is the end of the story, you couldn't ask for a better one than this gem.
Buy the album:
Author:
Tom Orr
Tom Orr is a California-based writer whose talent and mental stability are of an equally questionable nature. His hobbies include ignoring trends, striking dramatic poses in front of his ever-tolerant wife and watching helplessly as his kids surpass him in all desirable traits.