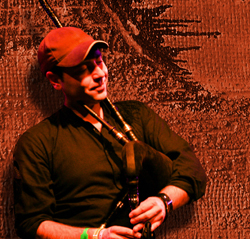 The indoor world music festival Musicport Festival 2010 will be held at The Spa, Bridlington, East Yorkshire, 22-24 October of 2010. Musicport Festival 2010 promises to be yet another feast of top artists and musicians from the international, national and regional stages bringing one of the best festivals to the Yorkshire coast. This year's line up mixes many artists who are new to the festival with some previous special guests who we like so much we wanted to invite them back.
With many more acts still to be announced the line-up so far includes music, dance and spoken word traditions from countries as diverse as Cuba, Japan, Ethiopia, China, Galicia and not to mention the length and breadth of the UK. Artists confirmed so far (with many more to come) are:
Angelique Kidjo (Benin, West Africa)
Richard Hawley (UK)
Jah Wobble's Japanese Dub (UK/Japan)
Imagined Village (UK)
Anxo Lorenzo (Spain)
Malinky (Scotland)
Mamane Barka & Kartik Seshadri (Niger/USA)
The Master Drummers of Africa
Invisible System (Ethiopia/UK)
Erik Mongrain (Canada)
Havana D'primera (Cuba)
The New Rope String Band (UK)
Guo Yue (China)
Samay (UK)
The Afghan Music Project
Kora Song Radio & Sura (Gambia/UK)
Hassan Erraji Trio (UK)
Joe Solo (Scarborough, UK)
Xova (Birmingham, UK)
Alejandro Toledo & The Magic Tombolinos (UK)
Lava (North Wales)
Lee Harris & River Styx
Albert Ross & The Otters (Leeds, UK)
The festival has 4 stages all in one gloriously restored Art Deco building overlooking Bridlington's extensive South Beach sands. With workshops, spoken word events, film, children's events, festival market, DJ room and food court the festival offers an all weather alternative to the outdoor summer festivals and is many peoples chance to recapture and rekindle that festival spirit (and paddle in the sea) before the nights get way too long.
This year's featured cause will be RedR UK – a charity helping to train and equip volunteers, improving the effectiveness of disaster relief supporting people to rebuild their lives. For more information www.redr.org.uk
Ticket Prices: Mid-term priced tickets cost £89.50 (full price) or £82.50 (concessions) for the whole weekend with junior tickets (11 – 17 yr olds) just £45 for the weekend, Under 10 yr olds go FREE. Day & session tickets will go on sale on approx. 1st July. There is an official campsite (charged separately) and an abundance of B & B /Hotel/self catering accommodation within easy walking distance of the venue visit www.realyorkshire.co.uk for further information.
Ticket Line 0845 373 2760, www.musicportfestival.com
Author:
World Music Central News Department
World music news from the editors at World Music Central