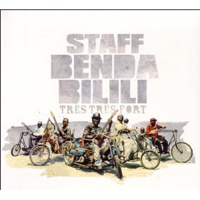 The Indie Acoustic Project (IAP) announced the winners of the IAP's "Best CDs of 2009" Awards. The winners in each of 12 categories were selected from among the 3 finalists in each category. Congo's Staff Benda Bilili's Tres Tres Fort won the World Music—Africa award and Marta Topferova's Trova won in the World Music—Eurasia category. Bluegrass musician Alison Brown won the Instrumental award for her latest work, The Company You Keep.
"It is the position of the IAP that all of the 36 CDs selected as finalists were in fact the 36 Best CDs of 2009," said the IAP press release. "Accordingly, it was extremely difficult to determine the "winner" for each category, as all of the finalist CDs were outstanding in their own rights. But, since our award process is (loosely) modeled on the Oscar and Grammy Awards, a winner is expected to be chosen. Picking a winner also makes it easier to publicize the musicians: most publications are more likely to make note of 12 CDs winning an award than they are to write an article announcing all 36 finalists.
The process for determining the finalists was difficult enough: the finalists were selected from the ever-growing multitudes of CDs considered for the awards. As always, the quality of the CDs submitted was terrific, leading to the only major problem we faced: because there were far more than 36 excellent CDs (and only 36 finalist slots), many deserving recordings could not be included."
The Indie Acoustic Project is dedicated to giving recognition to outstanding works of innovative acoustic (or mainly acoustic) music.
Winners:
Acoustic Ensemble
Wailin Jennys – Live at the Mauch Chunk Opera House (Red House)
Instrumental
Alison Brown – The Company You Keep (Compass)
Latin
Miguel Espinoza – Guitarra En Mano (Mountain Music River)
Lyrics
Jonathan Coulton – Best. Concert. Ever. (What Are)
Multi-Genre
Beyond the Pale – Postcards (Borealis)
Progressive Edge
Elliott Brood – Mountain Meadows (Six Shooter)
Rock
Ariana Gillis – To Make It Make Sense (Self-produced)
Roots
Michael Martin – Murphy Buckaroo Blue Grass (Rural Rhythm)
Singer-Songwriter—Female
Daiqing Tana – Silent Sky (Wind)
Singer-Songwriter—Male
Chris Velan – Solidago (New Song)
World Music—Africa
Staff Benda Bilili – Tres Tres Fort (Crammed)
World Music—Eurasia
Marta Topferova – Trova (World Village)
More information at www.indieacoustic.com.
Author:
World Music Central News Department
World music news from the editors at World Music Central