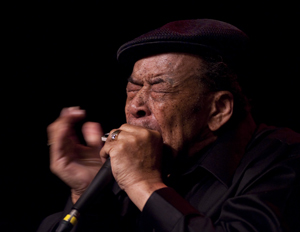 Inducted into the Blues Hall of Fame in 2006, the Smithsonian Institute in 1991, and winner of countless W.C. Handy Blues Awards, blues legend James Cotton will perform Thursday, June 24 of 2010 at 8pm at Rose Theater in New York City. The concert features an all-star line-up of contemporary blues giants including legendary Blues men Pinetop Perkins and Taj Mahal.
In two distinct sets, one electric and the other unplugged, Cotton will also be joined by vocalist Shemekia Copeland, daughter of the late great Johnny Copeland, the guitarist and Howlin' Wolf alumnus Hubert Sumlin, plus Willie "Big Eyes" Smith, Darrell Nulisch, David Maxwell, and others.
James Cotton's discography is extensive. Highlights include the albums:  Breakin' It Up & Breakin' It Down with Muddy Waters, Best of the Vanguard Years, Superharps, Harp Attack!, Take Me Back and Live from Chicago Mr. Superharp Himself. Most recent recordings include Fire Down Under the Hill (2000), 35th Anniversary Jam (2002),  Baby, Don't You Tear My Clothes (2004).
Performers:
James Cotton, harmonica
Slam Allen, guitar & vocals
Shemekia Copeland, vocals
Tom Holland, guitar & vocals
Taj Mahal, guitar, banjo & harmonica
David Maxwell, piano
Kenny Neal, drums
Noel Neal, bass
Darrell Nulisch, harmonica & vocals
Pinetop Perkins, piano
Willie "Big Eyes" Smith, harmonica, vocals & drums
Hubert Sumlin, guitar
The blues summit will take place at Rose Theater at Frederick P. Rose Hall, home of Jazz at Lincoln Center, Broadway at 60thStreet, New York, New York.
Tickets are $35, $65, $85. *Hot Seats, $10 seats for each Rose Theater performance (excluding Jazz for Young People concerts), are available for purchase to the general public on the Wednesday of each performance week. Subject to availability. Hot Seats are available only by walk up at the box office.
Tickets can be purchased through www.jalc.org or CenterCharge at 212-721-6500, open daily from 9am to 9pm. Tickets can also be purchased at the Jazz at Lincoln Center Box Office, located on Broadway at 60thStreet, ground floor.
Author:
World Music Central News Department
World music news from the editors at World Music Central