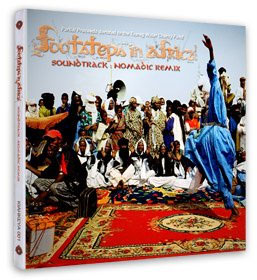 Footsteps in Africa Soundtrack: Nomadic Remix (KiahKeya Productions, 2010)
Several remixers and DJs were invited to reconstruct the soundtrack of Footsteps in Africa: A Nomadic Journey (KiahKeya Productions, 2009), which is the music to a documentary film by director Kathi von Koerber, who took a road trip through the Sahara desert of Mali documenting the Tuareg/Kel Tamashek tribes living in the desert areas in Mali near the Mauritanian border. The film will be screened at various festivals across North America and the world in 2010.
The original score was composed by American world beat keyboardist Jamshied Sharifi and features a collaboration by his long time friend Gnawa music star Hassan Hakmoun, and features sharifi's original music as well as Tuareg field recordings. "In the desert, there are no birds, no trees, just this denseness. You feel an amazing hertz frequency," von Koerber explains. So she and Jamshied Sharifi decided they needed to do something innovative. They invited throat singer Benno Klandt to vocalize over the entire film, a subtle sound only audible on a good sound system yet quietly uniting the soundtrack.
Footsteps in Africa Soundtrack: Nomadic Remix (BFM Digital; April 22, 2010) was developed by producer and compiler Joshua Jacobs of Ambient Groove. He called reputable DJs, including well known remixers as well as newcomers, like Rara Avis, Kaya Project, DimmSummer, Cheb i Sabbah, Solar Lion, Nickodemus, and EarthRise SoundSystem, to provide their dance floor impressions of the original music. The result is an eclectic collection of inspired global electronica pieces that range from frenzied electronic club beats combined with global sounds to the hum of the desert ambiance. "The DJs really felt what needed to happen and what was right for the desert," von Koerber enthuses. "They took it to a whole new level."
Von Koerber recorded some of the music at festivals throughout the Tuareg region, which included nomads from Mali, Mauritania, Burkina Faso, and Niger, who met and jammed for hours. "Westerners gather in mad chaos, but at festivals like the one in Goosi, where some of the tracks were recorded, it's all about the community, singing together for hours," von Koerber explains. "The people who come out live in desert all the time. They hold family and tribal conferences. The music and the gatherings have the intention of promoting exchange and peace at meetings that can't take place anywhere else."
Part of the profits of Footsteps in Africa Soundtrack: Nomadic Remix will be going directly back to Tuareg communities, many of whom are in desperate need of water. "Water gives life to the body, as music gives life to the soul." Fifteen percent of all profits from the remix album will be returned to the community, to support clean water projects,  improving wells and purchasing covers and new pumping systems as part of the Nomadic Villagers Clean Water Awareness Fund. "I wanted to bring the film back to them," Von Koerber reflects. "It's their voice, words and thoughts translated. The music and film are representations of them, and I wanted to give back."
"The Tuareg are nomads, and freedom is their music," concludes von Koerber. "The album awakens you to the nomad in every one of us. It brings you to that joy you feel in the desert, by getting you out on the dance floor. That joy is like water: we all need it."
Footsteps in Africa Soundtrack: Nomadic Remix is an engaging global electronica exploration of the music of the Tuareg.
Buy Footsteps in Africa Soundtrack: Nomadic Remix
Author:
World Music Central News Department
World music news from the editors at World Music Central