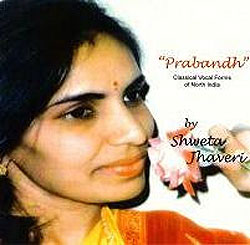 Shweta Jhaveri
Prabandh: Classical Vocal Forms of North India (21st Century Cosmos, 2010)
The rise and fall of her voice floats over you like a warm breath against bare skin. She is Shweta Jhaveri. The title of her latest recording Prabandh: Classical Vocal Forms of North India might not transport you to the respite of cooling, deep waters or the serenity of sheltered, shaded gardens, but the promise of her lovely voice will certainly take you there.
Pooling a collection of Hindustani khayals, a thumri, a dhrupad and a handful of other traditional Indian compositions, as well as a few of her own compositions, Ms. Jhaveri once again wows fans with her artful vocals on Prabandh. It is only after listening to Prabandh that one can imagine that such vocals are possible.
Warm, rich and honeyed, Ms. Jhaveri's vocals, along with Ramesh Bapodara on tabla and pakhavaj, Dipesh Desai on harmonium, Ikram Khan on sarangi and Suparna and Shalili on backing vocals, transform the sound space into a Hindustani performance space. Virtuosity doesn't really seem to cover it as Ms. Jhaveri launches into the opening "Khayal" or the rapid flow of her vocals on the following "Khayal" or chhota khayal, raga Latit. Ms. Jhaveri is joined by a pair of backing vocals on the stunning "Sargam," one of Ms. Jhaveri's own compositions.
The instrumentation on Prabandh is spare and in complete support of the vocals, creating a fluid meditative musical landscape. Tracks like "Kajari," "Hori" and the artfully graceful "Dhrupad" ride the undulating ribbon of Ms. Jhaveri's vocals in an unspoken request to be patient, be still and to simply listen. The entirety of Prabandh is indeed outstanding, with sparkling gems like "Chatarang," "Thumri" and "Tarana," another composition by Ms. Jhaveri, sprinkled throughout.
Prabandh includes in its liner notes a bit about the North Indian classical style, terms used for vocal styles and a brief explanation about the composition and lyrics on each track, so fans get a simple guide to the Hindustani style. The cover art doesn't exactly do the music or its clean, flawless recording justice, but don't be fooled Prabandh is pure gold.
Available from: shwetajhaveri.com. Other releases available: Anahita, Khayal-Saga, Avishkar, Huge
Author:
TJ Nelson
TJ Nelson is a regular CD reviewer and editor at World Music Central. She is also a fiction writer. Check out her latest book, Chasing Athena's Shadow.
Set in Pineboro, North Carolina, Chasing Athena's Shadow follows the adventures of Grace, an adult literacy teacher, as she seeks to solve a long forgotten family mystery. Her charmingly dysfunctional family is of little help in her quest. Along with her best friends, an attractive Mexican teacher and an amiable gay chef, Grace must find the one fading memory that holds the key to why Grace's great-grandmother, Athena, shot her husband on the courthouse steps in 1931.
Traversing the line between the Old South and New South, Grace will have to dig into the past to uncover Athena's true crime.