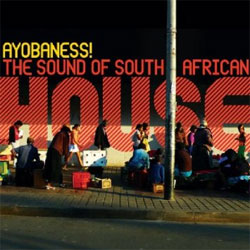 'Ayoba' is a catch phrase born in South Africa's townships that is used to express excitement. Right now South Africa is excited and there are shouts of 'Ayoba' everywhere: in June and July millions of football (soccer) fans worldwide will be turning their eyes on the rainbow nation for the 2010 FIFA World Cup.
If you are looking for a soundtrack to the World Cup that captures the vibe of South Africa's youth culture then look no further than Ayobaness: The Sound of South African House (Out Here Records OH 015), the first and ultimate introduction to the vibrant house music scene of South Africa featuring the latest club tunes, the biggest and most influential artists as well as names currently buzzing on the underground.
Think of house music and the first cities that come to mind are probably Chicago, Detroit, Miami, New York City … but right now possibly the most house music obsessed places in the world can be found in the cities of South Africa, such as Johannesburg and Durban.
South African DJs started playing Chicago house in the 80s and were selling mixes out of their car boots. By the time apartheid finally came to an end in 1994, the South African township youths had created their own club music called kwaito. In the early days, kwaito was not much more than slowed-down house beats overlain with raps in Zulu, Xhosa and broken township English. Soon kwaito became the soundtrack for celebrating a free South Africa and catalyzed the rebirth of a new black entertainment industry.
Even throughout the kwaito boom, house music was always around. DJs started to fuse and produce their own local version adding uniquely South African sounds from kwaito vibes, Zulu Mbaqanga bass lines to Hugh Masekela samples, and local house duos like Revolution or BOP were instant chart breakers. With the kwaito craze somewhat fading in recent years, house has again taken the lead as South Africa's number 1 party music and the heartbeat of urban SA music. Today South Africa is the only country on the continent that has its unique local house culture. It is also the only country in Africa where kids dream of being a DJ or a producer – not a singer.
The most well-known artist on the compilation, known far beyond the suburb of Pretoria he hails from and South Africa as a whole, is of course DJ Mujava whose 2008 single "Township Funk" (released in the UK on Warp Records) became a global club anthem and as such first introduced many people to SA house.
The acclaimed DJ and producer is part of the huge rebirth of black culture that has been taking part in South Africa since the end of apartheid. He is one of the main players of this cultural revolution who have grown up with a love for house music and have since made it their own. 'Ayobaness' features "Mugwanti/ Sgwejegweje", a new track by Mujava which has not been available in the UK before.
Also known internationally are DJ Cleo who has shaped South Africa urban music scene like nobody else (included is his hit song "Naisha Njalo") and DJ Black Coffee whose project Afro-house vocal crew Shana is featured with the soulful tune "Iyo'Londaba".
The title track is the smash hit "Ayobaness" by the "South African President of Youth Culture", also known as "His royal Ayobaness", Pastor Mbhobho, a somewhat crazy priest sporting a huge afro and wearing lots of bling bling.
Hidden gems include "Mexican Girl" by Aero Manyelo, a heavy bass track from Midrand Johannesburg, and "Kubi", a mix of ghetto and disco sounds by DJ Steavy from Nelspruit. Straight from the townships of Jo'burg is Mgo whose track "Yes" was mixed by Hamburg-based production team Bongo Disco.
The compilation also shows that there is no homogenized South Africa house scene; there are pronounced differences especially when comparing the different cities. For instance, from the port city of Durban heavyweight L'Vovo Derrango, DJ Clock and Big Nuz showcase their take on house music.
From initially copying international house beats and mixing them with Shangan, Zulu or Xhosa township raps in early kwaito, house music has come full circle. It turned into a local culture that combines a love for long lost true African sounds, urban township culture and the latest international club trends. No place in Africa has such a close connection to the rest of the world alongside a rich African tradition. No wonder this explosive mix is attracting more and more DJs from all over the world.
Track-listing:
1. L'vovo Derrango – Resista
2. Pastor Mbhobho – Ayobaness
3. DJ Cleo ft. Bleksem – Nisho Njalo
4. Dj Mujava – Mugwanti/Sgwejegweje
5. DJ Sumthyn Black ft. Ntsiki Mazwai – Wena
6. Mgo – Yes (Bongo Disco Mix)
7. Survivor – Stjwetla
8. DJ Clock ft. Big Nuz, Tzozo & Sox – Xavatha (Woza Chynaman)
9. Aero Manyelo – Mexican Girl
10. DJ Steavy – Kubi
11. DJ Bongz ft. Mampinsha – Bayakhuluma
12. DJ Fresca & Kudoskelem ft. Lelethu – Int'engekhoyo
13. Shana – Iyo'Londaba
Buy the album:
Author:
World Music Central News Department
World music news from the editors at World Music Central