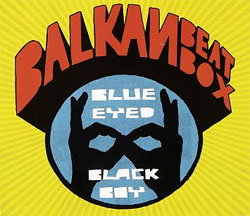 Balkan Beat Box's highly anticipated new album, Blue Eyed Black Boy, will be released tomorrow, April 27, on Nat Geo Music. The album follows 2007's Nu Med, which earned the band critical acclaim. Balkan Beat Box will bring their live show to the U.S. with a handful of tour dates in March.
Blue Eyed Black Boy was recorded in Tel Aviv and Belgrade in the midst of anti-Kosovo riots. "It was a very tense atmosphere, but we were in our studio, away from all that, translating that intense energy into something positive and good," says Ori Kaplan, saxophone player and 1/3 of the Balkan Beat Box trio. Drummer/programmer/producer Tamir Muskat and vocalist/MC Tomer Yosef round out the band.
Self-produced by Balkan Beat Box, Blue Eyed Black Boy features a variety of musical instruments and guest appearances, including a local gypsy orchestra from Belgrade called Jovica Ajdarevic Orkestar.
The album combines the musical elements of Mediterranean and Balkan traditions with hip-hop beats and punk influences. "It's always amazing when the three of us get together in the studio," says Kaplan. "It's a great dynamic that none of us ever had before in a band, a true collaboration. Each of us has his specialty, Tamir brings the beats and production, Tomer is the lyricist, and I do the melodies and the horns. We bring these three elements together so naturally. We trigger off each other."
Buy the albums: Blue Eyed Black Boy, Nu Med, Nu Made (Remixes), Nu-Made: Remixes & Videos, Balkan Beat Box, Gogol Bordello vs. Tamir Muskat
Author:
World Music Central News Department
World music news from the editors at World Music Central